BASF Innovations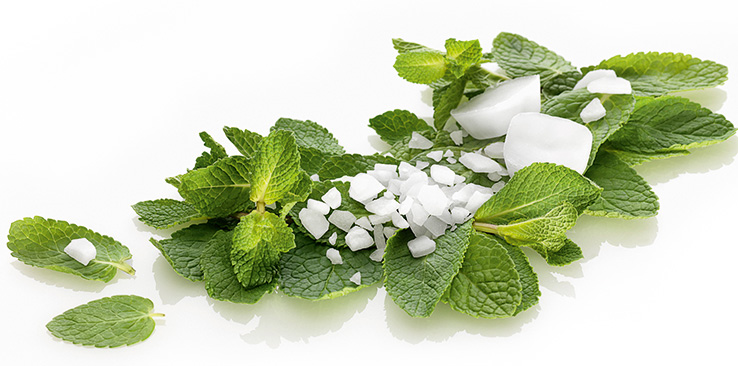 Photo: Pure menthol crystalizes into a solid, colorless mass at room temperature. Naturally obtainable from corn mint, the flavor is also produced synthetically in order to meet rising global demand.
Fresh ideas for pure mint flavor
With a two-fold innovation, BASF has established itself as an attractive partner on the market for menthol, one of the world's most popular flavorings. BASF's especially resource-efficient process for synthesizing menthol takes advantage of the strengths of our Verbund concept. We have coupled this with a new delivery method that allows our customers to process menthol in large quantities.
Its fresh taste and pleasant cooling effect have made menthol the world's most used flavor. And demand is growing steadily, especially as more and more pharmaceutical and cosmetic products contain menthol.
Efficient citral-based synthesis
Compared with the previous methods known to date, which involve complex, multi-step synthesis processes, BASF's patented technology for producing menthol saves both raw materials and energy as well as time and expense. A crucial element is our starting material, citral – an aroma chemical already produced in BASF's Verbund. We only need three synthesis steps to turn citral into menthol. In addition, a special, highly efficient catalyst system allows menthol to be produced straight into the desired form at a purity level of over 99%, ensuring that no similar – and therefore difficult-to-separate – by-products interfere with the substance's cooling effect. Because our synthesis method represents a continuous production process to which substances are constantly being added and removed, the same quantity of starting materials can produce more menthol in less time.
Direct, no-fuss processing
Producers usually let menthol cool down to room temperature so that it solidifies and can be transported in barrels, for example. Further processing then requires this solid to be rewarmed once again into liquid – a complex, energy-intensive and costly process. Together with our customers, we have developed a more efficient way. We are the first supplier to offer the possibility of obtaining large amounts of menthol in liquid form. We fill the warm menthol directly from our plant into heatable containers, keeping it liquid during transport. Our customers can then use it right away in their own production. Additional benefits include reduced costs at both ends, less packaging material and increased occupational safety.