BASF on the Capital Market
Overview of BASF shares

| | | | | |
| --- | --- | --- | --- | --- |
| | | | 2nd Quarter 2016 | 1st Half 2016 |
| Performance (with dividends reinvested) | | | | |
| BASF | | % | 7.8 | 1.1 |
| DAX 30 | | % | (2.9) | (9.9) |
| DJ EURO STOXX 50 | | % | (2.6) | (10.2) |
| DJ Chemicals | | % | (0.8) | (1.3) |
| MSCI World Chemicals | | % | 0.0 | (3.1) |
| | | | | |
| Share prices and trading (XETRA) | | | | |
| Average | | € | 68.21 | 65.37 |
| High | | € | 72.74 | 72.74 |
| Low | | € | 62.01 | 56.70 |
| Close (end of period) | | € | 68.64 | 68.64 |
| Average daily trade | | million shares | 3.1 | 3.4 |
| Outstanding shares (end of period) | | million shares | 918.5 | 918.5 |
| Market capitalization (end of period) | | billion € | 63.0 | 63.0 |
Share performance 2nd Quarter 2016
Stock market losses at end of quarter after Brexit vote
BASF share outperforms benchmark indexes
Stock market trends were positive at the beginning of the quarter, especially as oil prices recovered, the U.S. labor market data showed solid development and economic indicators improved in China. The remainder of the quarter, however, was marked by uncertainty in the runup to the British referendum on E.U. membership. The vote on June 23 to leave the European Union triggered losses on the stock markets.
BASF shares traded at €68.64 at the end of the second quarter, 3.5% above the first quarter's closing price. Assuming the dividend of €2.90 paid out on May 2, 2016, was reinvested, our share performance was 7.8%. The DAX 30 and the European benchmark index DJ EURO STOXX 50 both fell over the same period by 2.9% and 2.6%, respectively. The global industry index MSCI World Chemicals remained at a nearly unchanged level, whereas DJ Chemicals lost 0.8%.
BASF share performance (January to June 2016)
(With dividend reinvested; indexed)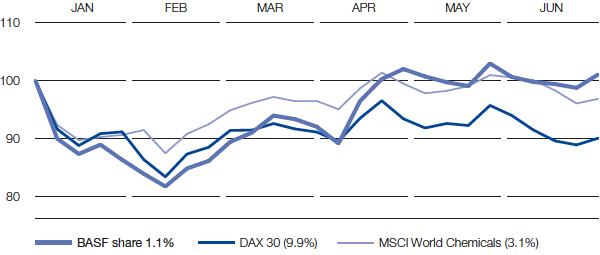 Good credit ratings and solid financing
Rated "A1/P-1 outlook stable" by Moody's and "A/A-1 outlook stable" by Standard & Poor's, BASF enjoys good credit ratings, especially compared with competitors in the chemical industry. We continue to have solid financing.
Effective April 5, 2016, we tapped our 2013–2021 bond with a 1.875% coupon, increasing its volume by €300 million to €1 billion. With an issue price of over 100%, the result was an effective annual interest rate of 0.37%. We repaid a €500 million bond at the end of June 2016, as scheduled.
Financial communication honored again
Our financial communication has again won awards. We took first place among European chemical companies in the annual survey conducted by Britain's IR Magazine. Institutional Investor Magazine recognized BASF in such categories as Best Investor Day and Best IR Program in the European Chemical Industry.
Contact our Investor Relations team by phone at +49 621 6048230 or email ir@basf.com