Our Strategy
Chemistry is our passion. We want to be the most attractive partner for our customers to overcome challenges that can be solved with chemistry. Our customers are at the center of everything we do. With our products and technologies, our innovative and entrepreneurial spirit and the power of our Verbund integration, we want to grow profitably and at the same time, create value for society and the environment. This is our goal, which is embedded in our corporate purpose: We create chemistry for a sustainable future.
Humankind is facing enormous challenges. The climate is changing, natural resources are becoming scarcer, pressure on ecosystems is increasing and our growing world population needs to be fed. More and more urgently than ever, solutions are needed for a sustainable future. Chemistry plays a key role here. In almost all areas of life, it can pave the way to greater sustainability with innovative products and technologies and accelerate the change needed to achieve this. This belief is expressed in our corporate purpose: We create chemistry for a sustainable future.
Our mission and motivation is to grow profitably and make a positive contribution to society and the environment. For example, BASF's solutions help to protect the climate, avoid or recycle waste, use resources more efficiently, produce healthy and affordable food, and enable climate-smart mobility.
At the same time, we are undergoing profound changes. We need to transform our company, as we have done repeatedly in the more than 150-year history of BASF. This time, we are moving toward climate neutrality and the circular economy. This involves managing long-term policy decisions like the European Green Deal, overcoming the consequences of current geopolitical conflicts such as the war in Ukraine, and driving forward digitalization. All of this requires a clear vision as well as a high degree of creativity and flexibility.
Both long-term trends and short-term developments in an environment characterized by volatility and uncertainty are challenging for the chemical industry. At the same time, they also open up numerous opportunities for new business areas and innovative products.
We want to lead the way in the chemical industry and responsibly shape the change – with ambitious targets and a concrete roadmap: We are gradually switching our energy and raw materials supplies from fossil to renewable sources. We are adapting our Verbund structure to the new circumstances as the basis for resource-efficient, safe and reliable production. We are developing new, pioneering carbon-free and low-carbon production processes for our products. We are accelerating our innovation processes and deepening cooperation with customers, suppliers and other partners to develop high-performance products with a lower carbon footprint. We are developing recycling technologies for various waste streams to strengthen the circular economy. We are harnessing the many opportunities of digitalization across all areas of the company. We are systematically aligning our portfolio with growth areas and future technologies, and are integrating sustainability into our value chains even more strongly. We create a working environment in which our employees can thrive and contribute to BASF's long-term success.
Good to know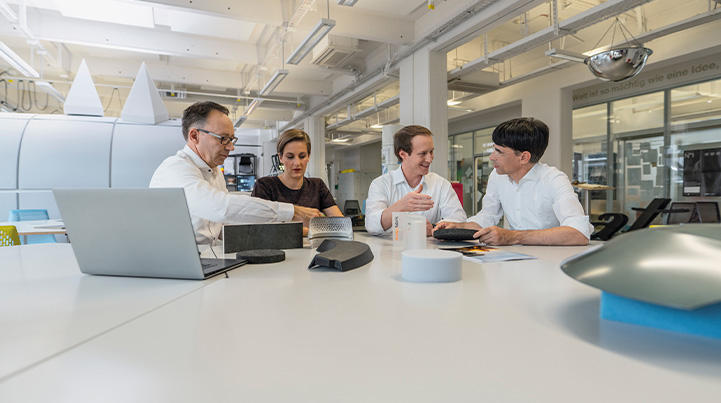 Our customers in focus
BASF supplies products and services to around 82,000 customers from almost all sectors and countries around the world. Our customers are mainly global and small and medium-sized companies, but also include end consumers. We are continually refining our organizational structure so that our operating divisions can flexibly address specific market and customer requirements and differentiate themselves from the competition. The operating divisions pursue different business strategies – from cost leadership in basic chemicals to tailored system solutions for specific customer applications. Above and beyond this, we are intensifying cooperation with our customers to jointly leverage innovation and growth potential. For instance, we have established around 60 strategic customer networks to address the needs of our most important customers even better and more quickly.
Value chain
A value chain describes the successive steps in a production process: from raw materials through various intermediate steps, such as transportation and production, to the finished product.
Verbund
In the BASF Verbund, plants are intelligently connected. In this system, chemical processes consume less energy, produce higher product yields and conserve resources. The by-products of one plant serve as feedstock elsewhere, creating efficient value chains\_– from basic chemicals to high value-added solutions such as coatings or crop protection products. Our Verbund concept – realized in production, technologies, the market and digitalization – enables innovative solutions for a sustainable future.