Segment Profile
The Materials segment comprises the Performance Materials and Monomers divisions. The segment's portfolio includes advanced materials and their precursors for new applica­tions and systems such as isocyanates, polyamides and inorganic basic products, as well as specialties for plastics and plastics processing industries. We differentiate ourselves through specific technology expertise, industry knowledge and customer proximity, and create maximum value in the isocyanate and polyamide value chains.
Fast-charging stations made from BASF plastics
Together with our partner Ebusbar®1 we have developed a fast-charging station for electric cars made of the BASF plastics Ultramid® PA, Ultramid® Advanced PPA, Ultradur® PBT and Elastollan® TPU. These high-performance materials are ideally suited for fast chargers as they exhibit excellent mechanical performance and high dimensional stability even under high current and elevated temperatures. To support the rapid growth of the global electromobility market, expansion of the charging infrastructure is essential. BASF expects growth in this segment to outpace the global electromobility market over the next five years and is targeting annual sales of more than €30 million for performance plastics from 2027 onward.
1 Ebusbar is headquartered in Shenzhen, China and specializes in high voltage connection system solutions for new energy vehicles.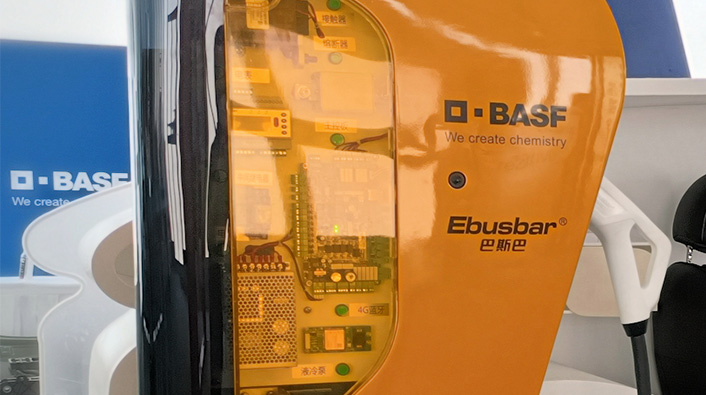 Sales
€18,443 million
2021: €15,214 million
EBIT before special items
€1,840 million
2021: €2,418 million
Division, products, applications

Products

Customer industries and applications

Performance Materials

Engineering plastics, biodegradable plastics, foam specialties, polyurethanes

Automotive, electrical engineering, packaging, footwear, sports and leisure, furniture, household, mechanical engineering, construction, thermal insulation, agriculture, medical technology, renewable energies

Monomers

Isocyanates (MDI, TDI), ammonia, caprolactam, adipic acid, chlorine, urea, glues and impregnating resins, caustic soda, polyamides 6 and 6.6, standard alcoholates, sulfuric and nitric acid

Industries such as plastics, woodworking, furniture, packaging, textile, construction and automotive

Use in the BASF Verbund
Production capacities of selected products in the regionsa

Product

Europe

North America

Asia Pacific

South America, Africa, Middle East

Annual capacity (metric tons)

Ammonia

1,765,000

Chlorine

595,000

Urea

545,000

Isocyanates

2,700,000

Polyamides 6 and 6.6

925,000

Polyamide precursors

1,420,000

Propylene oxide

675,000

Sulfuric acid

920,000

| | |
| --- | --- |
| a | All capacities are included at 100%, including plants belonging to joint operations and joint ventures. |
Value chain
A value chain describes the successive steps in a production process: from raw materials through various intermediate steps, such as transportation and production, to the finished product.