Learning and Development
Learning and development are essential success factors for a strong and future-oriented company culture. The skills and competencies of our employees are critical for profitable growth and lasting success. For this reason, we want to further modernize our learning culture and step up our efforts to promote continuous, self-directed learning and learning from others. Employee development at BASF is underpinned by the principle that development opportunities and support are open to all employees.
We understand development as continuous learning by building individual experience and skills, further training or changing jobs. A trust-based relationship between employees and leaders as well as regular feedback are crucial to employee development. Continuous Meaningful Conversations are regular conversations between leaders and employees and cover topics such as feedback, reflection, development, performance, collaboration and well-being. These conversations can be initiated by both leaders or employees and take different forms depending on individual needs – leaders and employees can agree on this in the annual employee dialog.
Employees also define their individual learning objectives together with their leader in these discussions. These are to be adapted to the specific requirements of the position concerned and future needs. Learning can take place in various formats and at different locations – at work, as social or formal learning – depending on current individual and workplace demands.
Our learning offerings are available for a variety of employee development needs: starting a career, expanding knowledge, personal growth and leadership development. In addition, the many academies in the divisions and service units offer training on specific professional content.
To achieve our ambitious digitalization goals, we are focusing on digital skills development in the leadership team and among our employees, as well as on agile transformation. Learning offerings cover not only typical, IT-related fields of competence, but also production and sustainability topics, for example. Agile leadership training plays just as important a role as development activities that help employees and leaders navigate a digitally-enabled working environment, analyze data for more targeted decision-making or improve automation processes. BASF uses the concept of digital competence profiles. These describe digital skills, tasks and behaviors and help harmonize digital skills requirements across BASF.
Additionally, we offer our employees a variety of self-learning opportunities to enhance their digital skills. The global Ways of Working portal was launched in 2021. Over one-third of our employees have already taken advantage of this offer. In 2022, around 28,600 employees participated in events such as the global collaboration weeks, "open house" question and answer sessions on new ways of working, and workshop series on virtual collaboration. In addition, 600 colleagues volunteered as change agents and served as contacts on virtual collaboration topics. This enables social learning directly in the workplace. In addition, over 5,200 employees are active in the Ways of Working community on our social network.
Alongside formal learning opportunities, the "project marketplace" social platform offers further agile development opportunities. Employees are able to grow professionally by taking on new tasks without having to change jobs internally and benefit from the experience they gain from working on digital projects. Over 600 employees took up this offer in 2022.
Good to know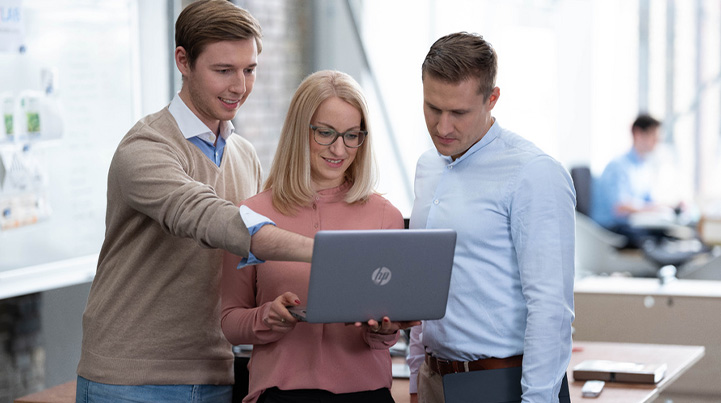 Agile learning formats
Agile learning formats are characterized by a high degree of self-organization on the one hand and cooperation on the other. At BASF, they are primarily applied directly in a working context, for example in the form of design thinking, learning circles or hackathons. With the regular Climathon initiative, for example, BASF aims to find and nurture solutions that advance digitalization and sustainability together. In 2022, BASF also participated in the HerHackathon 2022, where 250 female digital talents from across Europe worked on seven challenges from multiple companies. Participating in events of this kind helps us to be perceived as an attractive digital employer and to attract new talent.

Citizen development is an important pillar of BASF's digitalization strategy. In IT jargon, citizen developers are the opposite of professional software developers – interested users who, after a short learning phase, independently create digital applications. There are now more than 10,000 citizen developers at BASF, who have access to various platforms to develop simple digital solutions themselves and strengthen BASF's digital transformation.