Raw Materials
In 2022, BASF purchased a total of around 35,000 different raw materials from more than 6,500 suppliers. We want to use these resources efficiently and responsibly. The BASF Verbund and our focus on the circular economy are key strategic building blocks here. We expect our suppliers to source and produce raw materials in line with environ­mental and social requirements. We support them as part of our supplier management, for example, or with various sustainability projects along the raw materials supply chain.
At a glance
~35,000
different raw materials purchased
1.2 million metric tons
renewable raw materials purchased
BASF's Verbund concept enables the efficient use of resources
Recycled and renewable raw materials are gaining in importance
Numerous projects to improve supply chain sustainability
Strategy and governance
Our strategy covers the entire value chain – from responsible procure­ment and the efficient use of raw materials in our own processes and recycling by-products to developing resource-saving solutions for our customers. We want to decouple growth from resource consumption with process and product innovations and to accelerate the shift toward closed-loop systems.
A Corporate Center unit sets binding, Group-wide purchasing guidelines for raw materials procurement. They are supplemented by specific internal requirements, for example, on sourcing palm-based raw materials or certain mineral raw materials. We use a multi-stage control process to ensure compliance with these requirements.
Alongside economic, environmental and social criteria, we also consider aspects such as product safety and supply security when selecting suppliers and raw materials. Our expectations of our suppliers are laid down in our Supplier Code of Conduct. We take a closer look at suppliers in critical supply chains, for example, mineral raw materials and renewable resources, a number of pigments and highly toxic substances. Upstream stages of the value chain are assessed for serious sustainability risks and, if necessary, suitable remedial measures are identified. In addition, we develop and test approaches to make the supply of raw materials more sustainable in joint initiatives with suppliers and other partners. Examples include our cooperative ventures and investments for recycling lithium-ion batteries and our joint activities on certified sustainable supply chains for renewable raw materials such as palm, palm kernel and castor oil.
BASF's Verbund concept is key to making the use of raw materials in our own processes as efficient as possible: Intelligently linking and steering our plants and processes creates efficient value chains. By-products from one facility are used as feedstocks elsewhere. This saves raw materials and energy. At the same time, the Verbund offers many opportunities to use renewable and recycled raw materials. We want to better leverage this potential going forward and gradually replace fossil resources with renewable energies and alternative feedstocks, both in our energy supply and in our production.
Resource efficiency and stewardship are also becoming increas­ingly important for our customers. That is why we are constantly working to reduce the resources consumed in the manufacturing of our products, for example through more efficient processes and innovative technologies. This enables us to offer our customers solutions that make a greater contribution to sustainability, like a smaller carbon footprint or better biodegradability. Our products also improve resource efficiency and sustainability at many points along the value chain. For example, BASF additives increase the service life and mechanical recyclability of plastics, which saves fossil resources, reduces CO2 emissions and enables a circular economy.
Fossil and petrochemical resources
BASF's most important raw materials (based on volume) include gas and crude oil-based petrochemical products such as naphtha and benzene. We mainly use liquid gas and natural gas as a fuel to generate energy and steam, and as a raw material to produce key basic chemicals such as ammonia or acetylene. Naphtha is mainly fed into our steam cracker, where it is split into products such as ethylene and propylene – both important feedstocks for numerous BASF value chains. We use aromatics such as benzene or toluene to manufacture engineering plastics, among other products. Thanks to a high degree of forward and backward integration, we can produce feedstocks for our value chains efficiently while conserving resources within the BASF Verbund. This increases supply security and strengthens our resilience to fluctuations in the supply chain. We source key raw materials from different suppliers to minimize supply risks.
As part of our efforts to improve sustainability, we are continuously investigating whether fossil and petrochemical resources can be replaced with non-fossil or recyclate-based alternatives. When making decisions, we take into account economic, environmental and social aspects, as well as other important criteria like supply security, and process and product safety.
Good to know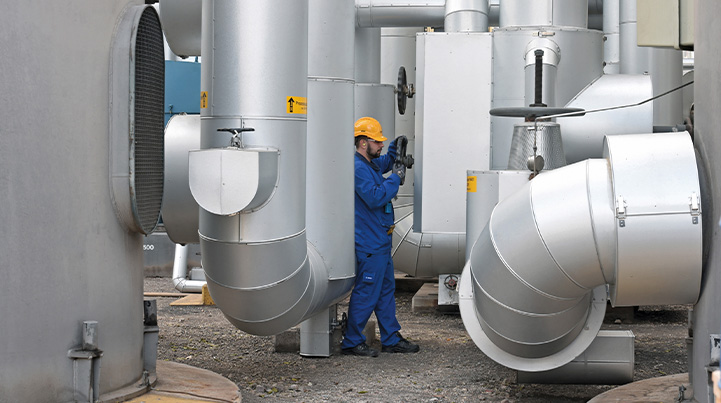 BASF's natural gas supply in Europe
Natural gas is one of BASF's most important feedstocks. We use it as a fuel for energy supply as well as a raw material for the production of basic chemicals. BASF's natural gas demand in Europe was 32 terawatt hours in 2022. The Ludwigshafen site in Germany accounted for around 24 terawatt hours, with around 50% used for central electricity and steam generation.
The supply situation for natural gas in Europe has changed significantly with the war in Ukraine and the progressive loss of Russian gas supplies. Although all of BASF's European sites could be supplied from our Western European suppliers in line with demand in 2022, this was at significantly higher and volatile prices. Compared with 2021, the additional cost of natural gas for BASF's European sites totaled €2 billion; compared with 2020, the increase was as much as €3.4 billion.
Since March 2022, we have reduced our natural gas demand in Europe through various measures. These include technical optimizations in BASF's production network and switching to other fuels wherever possible. In addition, we reduced production volumes at some plants with a high natural gas demand and purchased raw materials such as ammonia.
We are continuously monitoring the market and political environment and will decide what adjustments we may have to make in supply and production depending on the situation. The same applies in the event of a potential gas shortage, which would result in national gas allocation in Germany. If this were to occur, we currently assume that BASF would receive sufficient natural gas to maintain operations at the Ludwigshafen site at a reduced load.
We are doing everything we can to reduce our dependence on fossil energy, especially natural gas, even faster. Our focus here is on further increasing energy efficiency, a rapid switch to renewable energies in the power supply, and new electricity-based production technologies.
Renewable resources
In addition to fossil resources, we employ renewable raw materials, mainly based on vegetable oils, fats, grains, sugar and wood. In 2022, we purchased around 1.2 million metric tons of renewable raw materials. We use these to produce ingredients for the detergent and cleaner industry and natural active ingredients for the cosmetics industry, for example. We also use renewable feedstocks such as biomethane and bio-naphtha in our Verbund as an alternative to fossil resources. The mass balance approach allows us to allocate the amount of renewable resources used to a wide variety of end products (see box below). Examples include biomass balance coating solutions for the automotive industry such as CathoGuard® 800 ReSource and iGloss® matt ReSource, various biomass balance versions of Trilon® and Sokalan® products for the detergent and cleaner industries, or biomass balance styrene as a precursor for numerous styrenics, including the insulating materials Styropor®, Neopor® and Styrodur®.
Our aim is to continuously increase the share of renewable raw materials in our value chains. As for fossil raw materials, we also consider economic criteria, aspects of supply security, and process and product safety, as well as the potential impact on sustainability along the value chain. Alongside positive effects like reducing greenhouse gas emissions, these can also have negative effects on areas such as biodiversity, land use or working conditions, depending on the raw material. This is why we carefully weigh up the advantages and disadvantages of using renewable resources, for example with Eco-Efficiency Analyses. At the same time, we seek dialog with our stakeholders to raise awareness of conflicting goals. We also take into consideration recognized certification standards such as the Roundtable on Sustainable Palm Oil (RSPO) in our decisions.
As part of our commitment to greater sustainability, we concentrate on value chains that are relevant quantitatively or that do not yet have certification standards. We are also working on product innovations and on enhancing our production processes to improve the profitability and competitiveness of renewable resources. For example, we are developing innovative processes such as biocatalysis and fermentation for the production of vitamins and enzymes, and driving forward white biotechnology for the production of chemical components from renewable resources.
Palm oil, palm kernel oil and their derivatives are some of our most important renewable raw materials. We mainly use these raw materials to produce ingredients for the cosmetics, detergent, cleaner and food industries. We aim to ensure that palm-based raw materials come from certified sustainable sources. We have been a member of the RSPO since 2004 and are involved in other national and international initiatives, such as the German Forum for Sustainable Palm Oil and the High Carbon Stock Approach organization. Based on our Group-wide Supplier Code of Conduct, we have outlined our expectations of suppliers in the palm-based value chain in an additional sourcing policy (BASF Palm Sourcing Policy). This addresses aspects such as forest and peat conservation, respect of human and labor rights, smallholder inclusion, and certification and traceability standards. As part of our supplier and risk management, we have used the internet platform palmoil.io since 2021 to monitor deforestation activities and other possible breaches of regulations at our suppliers' sites. The annual BASF Palm Progress Report reports on our measures and progress toward more sustainability and transparency in the value chain.
We purchased 191,714 metric tons of palm oil and palm kernel oil in 2022 (2021: 242,946 metric tons). We again met our own voluntary commitment to source only RSPO-certified palm oil and palm kernel oil. This avoided more than 290,000 metric tons of CO2 emissions compared with the procurement of conventional palm oil and palm kernel oil. We were able to trace 97% of our global palm footprint to oil mill level as of the end of 2022 (2021: 96%). In addition, we maintained the RSPO supply chain certification of our sites for cosmetic ingredients. At the end of 2022, 25 production sites worldwide were certified by the RSPO (2021: 26).
As part of our voluntary commitment, we also aim to procure the main derivatives1 based on palm oil and palm kernel oil entirely from certified sustainable sources by 2025.
We source most of our palm-based raw materials from Malaysia and Indonesia. Smallholders account for around one-third of the total volumes produced there. We have worked together with The Estée Lauder Companies, the RSPO and the non-governmental organization Solidaridad in Indonesia since 2019 to expand our supplier base for RSPO-certified palm oil products while strengthening smallholder structures and sustainable production methods at local level. The project in the province of Lampung supports around 1,000 independent smallholders in improving their livelihoods and the sustainable production of palm oil and palm kernel oil. The focus is on efficient and sustainable farming practices and health and safety standards. The goal is for at least one-third of program participants to become certified according to the RSPO Smallholder Standard in three years.
Also important for BASF, albeit at a much smaller scale, is castor oil. We use castor oil to manufacture products such as plastics and ingredients for paints and coatings, as well as products for the cosmetics and pharmaceutical industries. With the objective of establishing a certified sustainable supply chain for castor oil, we launched the Sustainable Castor Initiative – Pragati in 2016 together with the companies Arkema and Jayant Agro and with Solidaridad. The initiative aims to improve the economic situation of castor bean farmers in India and, at the same time, raise awareness of sustainable farming methods. Over 80% of the world's castor beans are produced in India, mainly by smallholders. As part of Pragati, smallholder farmers receive training on topics such as cultivation methods, efficient water use, health and the safe use of crop protection products based on a specially developed sustainability code, SuCCESS. Since the project was initiated, more than 6,200 smallholders and over 19,000 hectares of land have been certified for sustainable castor cultivation. Yields from this land were 22% higher than average amounts for the region published by the local government for the 2021/2022 harvest cycle. In addition to SuCCESS, the Sustainable Castor Association (SCA), which was launched in 2019 by the founders of the Pragati initiative, has also developed a sustainability code for the wider supply chain. This will allow castor beans obtained from the program to be further processed into certified castor oil and derivatives and to be introduced into the downstream supply chain. In 2022, we again sourced certified sustainable castor oil from the program and became the first chemical company in the world to successfully complete the certification process at our Düsseldorf-Holthausen site in Germany. The site supplies customers with the first certified products based on certified sustainable castor oil.
We are also driving the market transformation toward certified, sustainably sourced oleochemicals for another renewable raw material: coconut oil. We use coconut oil to manufacture ingredients for products such as detergents, cleaning agents and cosmetics. Following the successful completion of a cooperative project between BASF, Cargill, Procter & Gamble and the German Agency for International Cooperation (GIZ) in 2019 to establish a certified supply chain for coconut oil, our production site in Cassina Rizzardi, Italy, became the first BASF site to successfully undergo certification under the Rainforest Alliance Mass Balance Coconut scheme in 2022. This makes BASF the world's first chemical company to offer certified sustainable ingredients for personal care products based on coconut oil.
Plants also form the basis of many other products in our portfolio for cosmetics. These include our biopolymers, which we have been offering under the Verdessence™ brand since 2022, and our bioactives. Through sustainable sourcing practices, we aim to preserve ecosystems and enable sustainable management for the people whose livelihoods depend on them. For example, we have already been combining economic, environmental and social aspects for several years in our holistic procurement initiatives for argan (Morocco), rambutan and galangal (both Vietnam). With the Responsibly Active program initiated in 2022, we are bundling our existing activities even more effectively with a focus on three pillars: innovating products that protect natural resources; empowering and respecting people along our value chain; and reducing our climate impact and operational footprint. For instance, the program focuses on climate-n­eutral production sites and product transportation or full traceability in the plant supply chain.
1 Fractions and primary oleochemical derivatives and vegetable ester oils
Recycled feedstocks
Recycling is playing an increasingly important role due to limited resources, growing sustainability requirements in the markets, and regulatory developments. That is why we want to increase the use of recycled feedstocks with our Circular Economy Program: From 2025 onward, we aim to process around 250,000 metric tons of recycled and waste-based raw materials every year worldwide, replacing fossil raw materials.
A focal point of our activities here is the chemical recycling of plastics. This technology complements mechanical recycling and can help to reduce the amount of plastic waste that is disposed of in landfills or thermally recovered. Chemical recycling breaks down plastics into their building blocks or converts them into basic chemicals. Different methods are used to achieve this.
In our ChemCycling™ project, our technology partners use the pyrolysis process to extract pyrolysis oil from mixed plastic waste or used tires, which are not mechanically recycled as of yet. We feed the pyrolysis oil into the BASF Verbund as a substitute for fossil raw materials and manufacture new products from it using the mass balance principle (see below). Our customers can process these mass balance products in the same way as conventional products. Our portfolio of Ccycled™ products now comprises more than 200 products, which our customers use for a wide range of applications – from transport cases for temperature-sensitive drugs to high-performance plastics for the automotive industry and functional textiles. In addition to our existing partnerships and to further expand our supply base for pyrolysis oil, we concluded a framework agreement with Arcus Greencycling Technologies in 2022. The company is currently commissioning a process demonstration unit to produce pyrolysis oil from mixed plastic waste that is not recycled mechanically on a commercial scale. The long-term goal of the agreement is to support capacity growth and enable offtake of up to 100,000 metric tons of pyrolysis oil per year.
In a cooperative project with KraussMaffei, Rampf and Remondis launched in 2022, we want to develop a process to chemically recycle polyurethane rigid foam waste from refrigerators and freezers. Polyurethane is used as an insulation material in these electrical appliances. The project focuses on the depolymerization process and the challenge of recovering high-quality recycled polyols despite high levels of impurities in the waste stream. Initial trials with regrind from discarded old appliances have already produced positive results.
In addition, BASF continues to drive forward the recycling of foam from used mattresses. Using a process developed by BASF, monomers can be recovered from the flexible polyurethane and used to produce new mattresses.
We have many years of experience and a high degree of specialization in recycling precious metals such as platinum, palladium and rhodium. They are used in automotive catalysts as well as in process and chemical catalysts. We primarily use the precious metals recovered in this way as feedstocks to manufacture new products for the automotive, chemical, electronics and green hydrogen industries. The carbon footprint for recycled precious metals is up to 90% lower than for primary metals from a mine. In 2022, we established a joint venture with Heraeus to enable a local supply of recycled precious metals for the Chinese market. BASF HERAEUS Metal Resource Co., Ltd. is based in Pinghu, China, where a new plant for recovering precious metals from spent automotive catalysts will also be built by 2023.
With the rapidly growing market for electric vehicles, there is also an increasing need for recycling lithium-ion batteries. As a leading producer of battery materials with local production capacities in the three main markets – Asia, Europe and North America – BASF has in-depth expertise in battery chemistry and process technology. We are utilizing these competencies to address battery recycling as an additional growth market in cooperation with partners along the value chain. In this way, we want to ensure that valuable metals remain in the production cycle for as long as possible. This conserves resources and significantly reduces the carbon footprint of cathode active materials compared with the industry standard. A prototype plant for battery recycling will be constructed at the Schwarzheide site in Germany in 2023. The prototype plant will allow for the development of new operating procedures and optimization of technology to deliver superior recovery rates of lithium, nickel, cobalt and manganese. The focus is on both spent lithium-ion batteries and products from cell manufacturers and battery material producers that do not meet product specifications. In addition, a new plant for the production of black mass from batteries on a commercial scale will be built in Schwarzheide by 2024. The investments aim to establish the full battery recycling value chain at BASF.
Mineral raw materials
We procure a number of mineral raw materials, which we use to produce automotive and process catalysts or battery materials for electromobility, among other products. We are continually improving our products and processes to minimize the use of primary mineral raw materials. At the same time, we are driving forward the recycling of mineral raw materials, for example, by recovering and reusing valuable metals from catalysts and lithium-ion batteries (see "Recycled feedstocks").
Sourcing mineral raw materials responsibly is important to BASF. We have implemented the E.U. Conflict Minerals Regulation. This defines supply chain due diligence for tin, tantalum, tungsten, their ores and gold (3TG) imported into the E.U. from conflict-affected and high-risk areas (CAHRAs).
In addition, BASF is committed to responsible and sustainable global supply chains for other mineral raw materials. These include cobalt, a key component in the production of battery materials. We have organized our cobalt supply chain according to established sustainability guidelines such as the OECD Due Diligence Guidance for Responsible Supply Chains of Minerals. Our goal is to not purchase cobalt from artisanal mines as long as responsible labor, social and environmental standards cannot be verified.
Another mineral raw material that BASF processes is mica. As a base for effect pigments, it is mainly used in the production of coatings and seed coatings. BASF is conscious of its social responsibility with regard to mica sourcing and applies high standards, which, among other things, exclude child labor. Suppliers are asked to source mica in accordance with our Supplier Code of Conduct. As a member of the Responsible Mica Initiative (RMI), we advocate for the eradication of child labor and unacceptable working conditions, specifically in India's mica supply chain. The initiative focuses on labor standards, strengthening local communities and legal frameworks. As RMI's most recent progress report shows, activities in the relevant regions of India have already led to improved income and living conditions. These include improved access to clean drinking water through the installation of pumps and filtration systems and improved access to health care through doctors' visits in villages and enrollment in public health insurance plans.
Good to know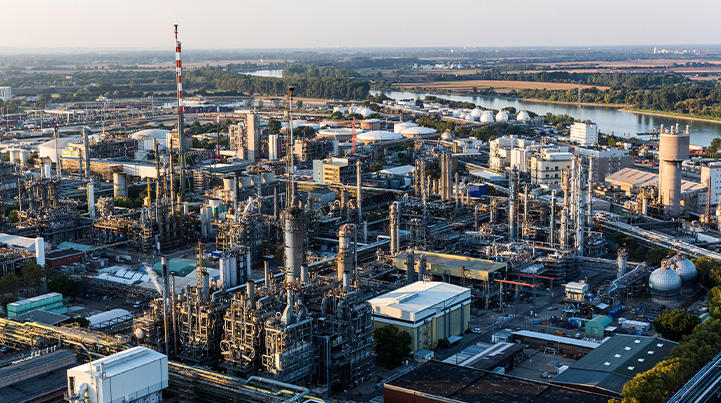 The mass balance approach
Many BASF value chains start in syngas plants or steam crackers, where fossil resources, mostly natural gas and naphtha, are converted into hydrogen and carbon monoxide or important basic chemicals such as ethylene and propylene. These are used to create thousands of products in the BASF Verbund.
Alongside fossil resources, we use bio-based and recycled raw materials such as bio-naphtha, biomethane or pyrolysis oil as feedstocks in the Verbund. Alternatives like these are used in place of fossil feedstocks for our mass balance products. As fossil, bio-based and recycled feedstocks are processed simultaneously, the raw materials cannot be directly physically assigned to resulting derivatives. However, with the help of monitoring and certification by independent third parties such as REDcert2 or ISCC PLUS, it can be verified that an adequate amount of alternative raw materials has been used for the amount of mass balance sales product. This ensures that fossil raw materials are saved with every sale of these certified products.
Mass balance products are identical in quality to conventionally produced products but the use of alternative raw materials contributes to sustainability, for example, through fewer CO2 emissions and lower demand for fossil raw materials. This method has already been applied to over 1,000 BASF products including engineering plastics such as polyamide, superabsorbents, dispersions and intermediates.
We share our expertise in numerous stakeholder platforms, including the European Commission's Circular Plastics Alliance, Together for Sustainability and nova-Institute's Renewable Carbon Initiative, to harmonize and standardize different attribution methods and certification schemes for mass balance products.
Steam cracker
A steam cracker is a plant in which steam is used to "crack" naphtha (petroleum) or natural gas. The resulting petrochemicals are the raw materials used to produce most of BASF's products.
Value chain
A value chain describes the successive steps in a production process: from raw materials through various intermediate steps, such as transportation and production, to the finished product.
Verbund
In the BASF Verbund, plants are intelligently connected. In this system, chemical processes consume less energy, produce higher product yields and conserve resources. The by-products of one plant serve as feedstock elsewhere, creating efficient value chains\_– from basic chemicals to high value-added solutions such as coatings or crop protection products. Our Verbund concept – realized in production, technologies, the market and digitalization – enables innovative solutions for a sustainable future.