More and more electric vehicles are being registered worldwide. At the same time, the raw materials for their batteries are limited. That is why BASF teams are working on innovative processes to recycle lithium-ion batteries. This produces a substance known as "black mass" (see photo), from which high-purity lithium salt as well as nickel, cobalt and manganese can be recovered.
As the world's population grows, so does demand for limited natural resources. At the same time, many valuable materials end up in landfills or in waste incineration. New concepts are needed to decouple growth from resource consumption. Reduce, reuse and recycle are the keywords of this transition to a system of more sustainable product cycles with less resource consumption and lower carbon emissions.
The concept of conserving resources, recycling and feeding waste back into the system has been firmly anchored in our company since BASF was founded in 1865: At that time, Friedrich Engelhorn pursued the idea of producing synthetic dyes from coal tar – a waste product – and organizing production as efficiently as possible. We have stayed true to this tradition to this day and are aligning our actions with circularity more systematically than ever. For example, BASF's Verbund structure presents numerous opportunities for a circular economy: By intelligently networking our plants, we can use by-products from one plant elsewhere as feedstocks or energy, which reduces our overall resource consumption (see Energy and Climate Protection and Material Topics in Focus: Emissions to Air, Waste and Remediation).
We want to further reduce our resource and carbon footprint, which is why we are aligning our feedstock base even more strongly with non-fossil alternatives such as bio-based or renewable raw materials. To expand our supply base, we are also developing additional waste-based sources of raw materials and suitable recycling processes, often with partners. Our target here is to process 250,000 metric tons of recycled and waste-based raw materials – such as pyrolysis oil from mixed plastic waste or used tires – in our production plants annually from 2025.
Many of BASF's products and technologies are already helping to close loops at many points along the value chain. Together with our customers and other stakeholders, we want to further accelerate the transformation from linear to circular business models. Our target: By 2030, we want to double our sales of solutions for the circular economy to €17 billion (baseline: 2020). These include:
Products based on renewable or recycled raw materials: These include products manufactured in whole or in part from renewable resources instead of fossil raw materials. The alternative raw materials are allocated to the end product using what is known as the mass balance approach. This is verified and certified by independent third parties. We use this approach for selected ingredients for the cosmetics, detergent, cleaner and food industries, for example. Other examples are products that contain mechanically recycled raw materials (Mcycled) or products based on chemically recycled pyrolysis oil (Ccycled products).
Products that close material cycles ("close the loop"): These include products that enable and improve the recyclability of valuable resources. Our first focus area here is the value chain for plastics. Examples include our certified com­postable plastics ecoflex® and ecovio®, plastic additives for improved mechanical recycling, or catalysts and adsorbents for the purification and treatment of recycled raw materials. The second focus is recycling mineral raw materials. For example, together with partners we are driving forward innovative tech­nologies and solutions for recovering metals such as lithium, nickel, cobalt and manganese from spent lithium-ion batteries.
Products that increase the resource efficiency or lifespan of materials ("extend the loop"): These include products that reduce resource consumption and environmental impact along the value chain. One example is Oxsilan®, an innovative thin-film technology for protecting metals from corrosion, for example before painting. The process not only enables higher productivity with lower material use, but also offers a favorable safety, health and environmental profile compared with conventional phosphating processes. This category also includes products that extend service life and/or reduce maintenance intervals. Tinuvin® light stabilizers are one example of this. They extend the lifespan of products such as agricultural films by providing reliable protection against UV radiation, heat and agrochemicals.
One of the steps we have taken to meet our targets and accelerate the transformation is establishing a company-wide Circular Economy Program. As part of this program, BASF teams are currently developing new approaches within three main action areas and over 45 initiatives: alternative raw materials pathways, innovative material cycles and new business models for the circular economy – which also include digital and service-based concepts. We also cooperate with partners along the value chain and are involved in numerous networks, such as the Ellen MacArthur Foundation, the World Business Council for Sustainable Development, the Global Battery Alliance and the Alliance to End Plastic Waste. Through this, we want to better understand needs, trends and growth opportunities, and contribute to the development of standards. One example is the mass balance concept, which we believe is key to the circular economy and the use of alternative raw materials in the chemical industry.
Good to know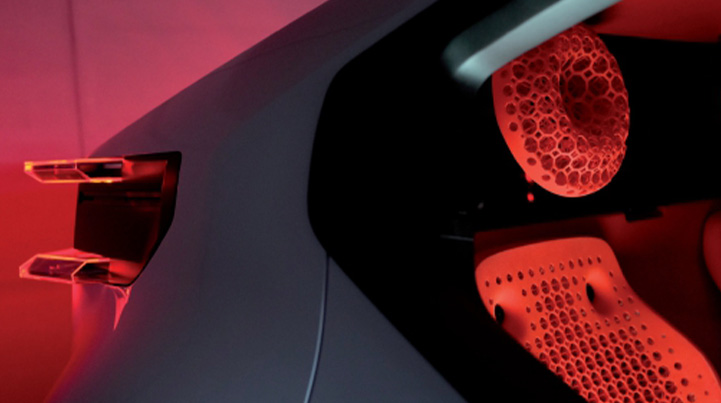 Rethinking electromobility: the oli concept car
The oli [all-ë] co-creation project from Citroën and BASF shows how electric vehicles can save weight and conserve resources through elimination, reduction and the use of innovative materials. Teams from both companies worked together to put various components and materials into new contexts for the concept car, which was unveiled in September 2022. Many of the components are designed and manufactured from materials from the same chemical product family. This makes them easier to recycle at the end of their useful life.
For example, the complete backrest is made of Ultrasint®, a flexible 3D-printed plastic material from BASF. The open lattice structure also provides natural air flow, replacing all ventilators in the seat. Engineering plastics from BASF replace conventional materials such as metal in many other parts of the vehicle interior and exterior, which significantly reduces weight while opening up a wide range of design options. The accelerator and brake pedals are made of Ultramid®, for example. The center console is made of Elastollan®. BASF also offers both materials based on renewable and recycled raw materials. The hood, roof, and trunk are made of panels combining the Elastoflex® polyurethane system and the Elastocoat® spray paint system. The panels are lightweight and extremely stable thanks to a honeycomb sandwich structure.
The car body was coated using R-M® AGILIS®, a water-based coating with a very low content of volatile organic compounds (VOCs). BASF CathoGuard® 800 protects the battery housing from corrosion. The electrocoating enables resource-efficient processes and stands out for its eco-friendliness: It is tin/HAPs-free with low solvent content.
Capping the top speed at 110 km/h (68 mph) and limiting acceleration significantly improves oli's range and battery lifespan.
Value chain
A value chain describes the successive steps in a production process: from raw materials through various intermediate steps, such as transportation and production, to the finished product.
Verbund
In the BASF Verbund, plants are intelligently connected. In this system, chemical processes consume less energy, produce higher product yields and conserve resources. The by-products of one plant serve as feedstock elsewhere, creating efficient value chains\_– from basic chemicals to high value-added solutions such as coatings or crop protection products. Our Verbund concept – realized in production, technologies, the market and digitalization – enables innovative solutions for a sustainable future.