Segment profile
The Functional Materials & Solutions segment comprises the Catalysts, Construction Chemicals, Coatings and Performance Materials divisions. They develop and market system solutions, services and innovative products for specific sectors and customers, particularly for the automotive, electronics, chemical and construction industries as well as for household applications, sports and leisure.
Divisions
---
Catalysts
Automotive and process catalysts, battery materials, precious metal trading
Construction Chemicals
Solutions for building structure and envelopes, interior construction and infrastructure
Coatings
Coatings solutions for automotive and industrial applications, decorative paints
Performance Materials
Polyurethanes, thermoplastics, foams and epoxy resins
Sales
---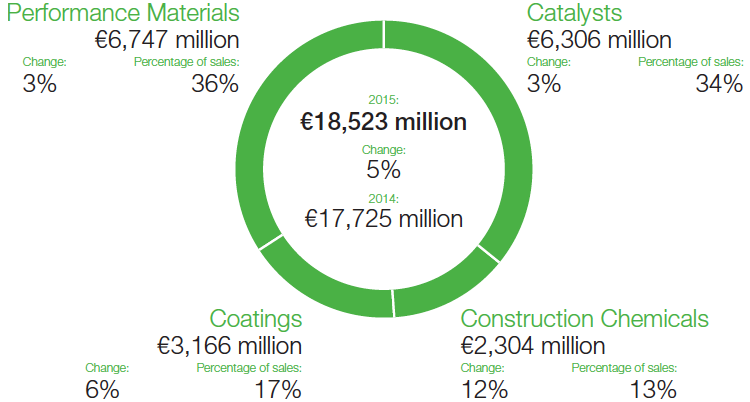 ---
How we create value – an example
MasterSeal® 6100 FX
A new generation of cement-based waterproofing
Value for BASF

up to 30%
Expected sales growth through 2020
Value for our customers and the environment
up to 50%
Reduced material consumption
Concrete structures that collect, store and transport water are designed to have a service life of more than 20 years. To keep maintenance costs at a minimum, specific protection from water damage is needed. MasterSeal® 6100 FX is a waterproofing membrane with unmatched performance on the market. With this product, we expect sales growth of up to 30% by 2020.
MasterSeal® 6100 FX's high-yielding formulation requires up to 50% less material than typical applications to form a waterproofing membrane. For users, this reduces storage and transportation costs and allows for easier handling. Compared with other formulations, the product reduces greenhouse gas emissions by up to 70%. Its quick hardening time also minimizes construction and maintenance time for our customers.
Strategy
Development of innovative products and technologies in close collaboration with our customers
Focus on specialties and system solutions that allow customers to stand out from the competition
We use BASF's expertise as the world's leading chemical company to develop innovative products and technologies in close cooperation with our customers. Our aim is to find the best solution in terms of cost and functionality, helping our customers contribute to sustainable development. Our specialties and system solutions enable customers to stand out from the competition.

One focus of our strategy is the ongoing optimization of our product portfolio and structures according to different regional market requirements as well as trends in our customer industries. We are positioning ourselves to profitably grow faster than the market.
We aim to secure our leading market position in Europe, to profitably expand our position in the North American market and to selectively extend our activities in the growth regions of Asia, South America, Eastern Europe and the Middle East.