Segment profile
The Performance Products segment consists of the Dispersions & Pigments, Care Chemicals, Nutrition & Health and Performance Chemicals divisions. Our solutions enhance the performance of industrial and consumer products worldwide. With our customized products, our customers can make their production processes more efficient and give their products improved application properties.
Divisions
---
Dispersions & Pigments
Raw materials for the formulation of varnishes, coatings, printing and packaging inks, adhesives and construction materials
Care Chemicals
Ingredients for hygiene, personal care, home care and industrial & institutional cleaning businesses as well as for applications in the chemical industry
Nutrition & Health
Products for the food and feed industries, the flavor and fragrance industry and the pharmaceutical industry
Performance Chemicals
Customized products for many sectors, from mining and the fuel industry to plastics processing
Sales
---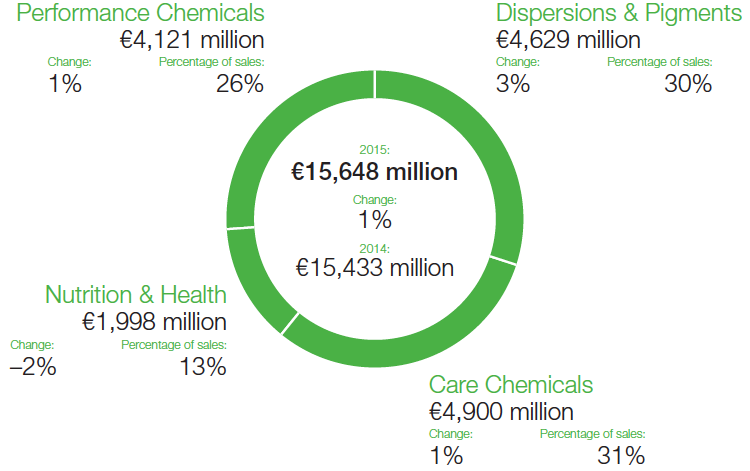 ---
How we create value – an example
Natuphos® E
New generation of phytase enzymes with environmental and economical impact in animal nutrition
Value for BASF

>5%
Expected average annual sales growth per year through 2018
Value for our customers and the environment
€1 million
Average annual savings per production site
In today's animal nutrition, the enzyme phytase helps non-ruminants such as pigs and poultry to ingest and absorb phosphorus, an essential mineral in feed plants. BASF's new phytase, Natuphos® E, can release far more phosphorus for the animals from the plant than previous generations of the enzyme. With an average annual sales growth of more than 5% expected through 2018, Natuphos® E is a growth driver for BASF's animal nutrition business.
Natuphos® E allows our customers to use fewer inorganic sources of phosphate in their feed production. Each production site1 can therefore save an average of €1 million per year. Phytase-enriched feed also reduces the amount of phosphate excreted by pigs and poultry by 30%, which in turn benefits the environment. Through its elevated efficiency, Natuphos® E exceeds this figure by a third, significantly reducing phosphate pollution in soil and water.
Strategy
Tailor-made products that improve our customers' applications and processes
Global presence ensures reliable supply to customers in all regions
New structure for pigments business
We take on the challenges arising from important future issues, especially population growth: scarce resources, environmental and climatic stressors, greater demand for food and the desire for better quality of life. In doing so, we focus on research and development and maintain close relationships to leading companies in our key customer industries. We position ourselves globally in order to reliably supply customers in all regions. We invest in the development of innovations that enable our products and processes – as well as our customers' applications and processes – to make a contribution to sustainability: for example, enabling the more efficient use of resources.
Industry-specific specialties make up a major part of our product range. These products create additional value for our customers, which allows them to stand out from the competition. We develop new solutions together with our customers and strive for long-term partnerships, which create profitable growth opportunities for both sides.
We pursue a different business model for standard products, such as vitamins or dispersions for paper coatings. Here, efficient production setups, backward integration in our Production Verbund's value chains, capacity management, and technology and cost leadership are all essential.
We support our customers by serving as a reliable supplier with consistent product quality, a good value for money and lean processes.
In January 2016, we combined our pigments activities into a new global business unit (GBU) based in Ludwigshafen, Germany. The plan is to transfer this business into separate legal entities. All employees in the pigments business are part of the new GBU. This reorganization allows for better adaptation to the challenges facing the pigment industry.

1 Assumption: annual feed production of 200,000 to 250,000 metric tons