Segment profile
BASF's oil and gas activities are bundled in the Wintershall Group. In 2015, Wintershall and its subsidiaries were active in the Exploration & Production and Natural Gas Trading business sectors.
Sectors
---
Exploration & Production
We focus our exploration and production on oil and gas-rich regions in Europe, North Africa, Russia, South America and the Middle East.
Natural Gas Trading
Together with our Russian partner Gazprom, we are active in the transport of natural gas in Europe. We transferred our shares in the formerly jointly run gas trading and storage business to Gazprom at the end of September 2015.
Sales
---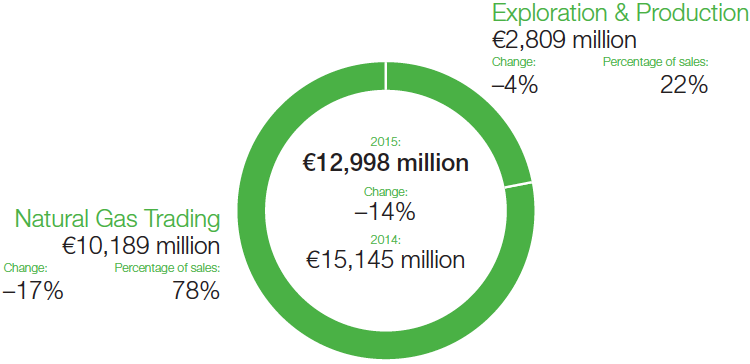 ---
How we create value – an example
Production in Norway's Maria oilfield
Efficient use of existing platforms instead of building a new production facility
Value for BASF
around 50%
Reduction of investment costs
Value for the environment
>50%
Reduction of carbon emissions
Through an innovative development concept and the involvement of other companies, we can develop the Maria oilfield in Norway without building a new production platform. Instead, we are using external partners' existing infrastructure and have developed intelligent technical solutions for this. Doing so allows us to increase profitability and reduce development costs by around half when compared with new construction.
In the Maria oilfield, a subsea tieback will connect two wellhead installations on the sea floor to three platforms over a distance of up to 45 kilometers. This consumes significantly less material than the construction of a new production facility. Existing infrastructure is put to its best possible use, and less energy is required for oil production and processing, thereby reducing carbon emissions by more than half.
Strategy
Pursuit of our growth strategy through exploration, acquisitions, strategic partnerships and technological expertise
Asset swap with Gazprom
Contribution to securing Europe's natural gas supply
In the future, crude oil and natural gas will continue to contribute significantly toward covering the rising energy demand of a growing world population. That is why we invest in the exploration and production of oil and gas, primarily in our core regions Europe, North Africa, Russia and South America, thereby continuing along our growth course. We also aim to establish the Middle East as another core region in our portfolio.
Selected collaborations, strategic partnerships, innovative technologies and the responsible development and production of hydrocarbons all form the basis of our growth-oriented strategy. Through the continuous optimization of our cost structure and portfolio of oil and gas activities, we ensure our future competitive viability, even in times when oil and gas prices are low. Measured by production volumes as well as by contribution to income from operations before special items, gas activities comprised around 70% of our portfolio in 2015.
Handling hydrocarbons in a responsible manner demands special measures for the protection of people and the environment. We therefore carefully assess the potential effects of every project before we begin. Together with experts, contractors and relevant stakeholders, we develop methods and implement measures to be able to use resources even more efficiently and minimize the impact on the environment. In doing so, we act in accordance with international agreements, legal requirements and our own, self-imposed high standards.
On September 30, 2015, we and our partner Gazprom completed the swap of assets of equivalent value that had originally been planned for the end of 2014. The swap took place with retroactive financial effect to April 1, 2013. This transaction gave BASF the economic equivalent of 25.01% of the blocks IV and V in the Achimov formation of the Urengoy natural gas and condensate field in western Siberia. These two blocks will be developed jointly by Gazprom and Wintershall. According to the development plan originally confirmed by Russian authorities, they contain total hydrocarbon resources of 274 billion cubic meters of natural gas and 74 million metric tons of condensate. As these figures are still undergoing review, new findings may give rise to adjustments. Production is scheduled to start in 2018.
In return, BASF transferred its shares in the previously jointly run natural gas trading and storage business to Gazprom. This included the 50.02% shares in the following: the natural gas trading company WINGAS GmbH, Kassel, Germany; the storage company astora GmbH & Co. KG, Kassel, Germany, which operates natural gas storage facilities in Rehden and Jemgum, Germany; and WINGAS Holding GmbH, Kassel, Germany, including its share in the natural gas storage facility in Haidach, Austria. BASF also transferred its 50% share in each of the natural gas trading companies Wintershall Erdgas Handelshaus GmbH & Co. KG, Berlin, Germany, and Wintershall Erdgas Handelshaus Zug AG, Zug, Switzerland. Gazprom furthermore became a 50% shareholder in Wintershall Noordzee B.V. in Rijswijk, Netherlands, which is active in the exploration and production of natural gas and crude oil deposits in the North Sea. In the first three quarters of 2015, these activities contributed a total of around €10.1 billion to sales, about €260 million to income from operations before special items, and approximately €650 million to EBITDA. This EBITDA figure includes special income from the asset swap.
Our cooperation with Gazprom in the natural gas transport business will continue unaltered. With western Europe's demand for natural gas steadily on the rise while its local production simultaneously decreases, it is becoming more and more important to secure sufficient imports. For this reason, we and other European partners want to participate in the expansion of the Nord Stream Pipeline. The Nord Stream 2 project intends to build two additional offshore pipelines from Russia to Germany through the Baltic Sea, helping ensure a long-term and reliable supply of natural gas to the European Union.