Sites, Markets, Environment
BASF has companies in 90 countries. We operate six Verbund sites and 232 additional production sites worldwide. Our Verbund site in Ludwigshafen, Germany, is the world's largest integrated chemical complex owned by a single company. The Verbund concept was developed and optimized here and later applied to other sites around the world. Construction of the first plants continued at our planned new smart Verbund site in Zhanjiang, China.
The Verbund system is one of BASF's great strengths. We add value by using our resources efficiently. The Production Verbund intelligently links production units and their energy supply so that, for example, the waste heat of one plant provides energy to others. Furthermore, one facility's by-products can serve as feedstocks elsewhere. This not only saves us raw materials and energy – it also avoids emissions, lowers logistics costs and leverages synergies.
We also make use of the Verbund principle for more than production, applying it for technologies, the market and digitalization as well. Expert knowledge is pooled in our global research.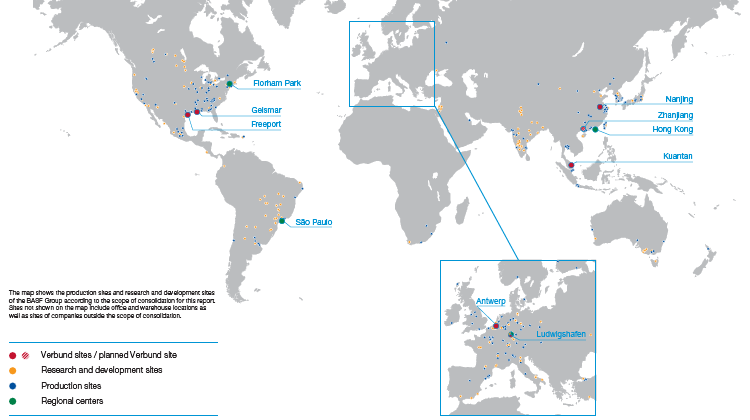 Procurement and sales markets
BASF supplies products and services to around 90,000 customers1 from various sectors in almost every country in the world. Our customer portfolio ranges from major global customers and small and medium-sized enterprises to end consumers.
We work with over 70,000 Tier 1 suppliers2 worldwide. They supply us with important raw materials, chemicals, investment goods and consumables, and perform a range of services. Important raw materials (based on volume) include naphtha, liquid gas, natural gas, benzene and caustic soda.
BASF sales by industry 2021 (Direct customers)

| | |
| --- | --- |
| > 20% | Chemicals and plastics | Transportation (respectively) |
| 10–20% | Agriculture | Consumer goods (respectively) |
| < 10% | Construction | Electronics | Energy and resources | Health and nutrition (respectively) |
Business and competitive environment
BASF's global presence means that it operates in the context of local, regional and global developments and a wide range of conditions. These include:
Global economic environment
Legal and political requirements (such as European Union regulations)
International trade agreements
Industry standards
Environmental agreements (such as the E.U. Emissions Trading System)
Social aspects (such as the U.N. Universal Declaration of Human Rights)
BASF holds one of the top three market positions in around 80% of the business areas in which it is active. Our most important global competitors include Arkema, Bayer, Clariant, Corteva, Covestro, Dow, Dupont, DSM, Evonik, Huntsman, Lanxess, SABIC, Sinopec, Solvay, Sumitomo Chemical, Syngenta, Wanhua and many hundreds of local and regional competitors. We expect competitors from Asia and the Middle East in particular to continue to grow in significance in the years ahead.
Corporate legal structure
As the publicly listed parent company of the BASF Group, BASF SE takes a central position: Directly or indirectly, it holds the shares in the companies belonging to the BASF Group, and is also one of the largest operating companies. The majority of Group companies cover a broad spectrum of our business. In the BASF Group Consolidated Financial Statements, 258 companies including BASF SE are fully consolidated. We consolidate nine joint operations on a proportional basis and account for 27 companies using the equity method.
1 The number of customers refers to all external companies (sold-to parties) that had contracts with the BASF Group in the business year concerned under which sales were generated.
2 BASF considers all direct suppliers of the BASF Group in the business year concerned as Tier 1 suppliers. These are suppliers that provide us with raw materials, investment goods, consumables and services. Suppliers can be natural persons, companies or legal persons under public law.
Verbund
In the BASF Verbund, plants are intelligently connected. In this system, chemical processes consume less energy, produce higher product yields and conserve resources. The by-products of one plant serve as feedstock elsewhere, creating efficient value chains – from basic chemicals to high value-added solutions such as coatings or crop protection products. Our Verbund concept – realized in production, technologies, the market and digitalization – enables innovative solutions for a sustainable future.