Our Strategic Action Areas
Our customers are our number one priority and are at the heart of our strategy. We want to be their most attractive partner for challenges that can be solved with chemistry. BASF supplies products and services to around 90,000 customers1 from almost all sectors and countries around the world. Our customer portfolio ranges from major global customers and small and medium-sized enterprises to end consumers. Our comprehensive product portfolio means that we are active in many value chains and value creation networks. We use various business strategies, which we adapt to the needs of individual industries and markets. These range from cost leadership in basic chemicals to tailored system solutions for specific customer applications.
Selected awards
Ford: World Excellence Award
Dulux: Supplier of the Year Award
3M: Supplier of the Year Award
We continue to drive forward our customer focus. We have refined our organizational structure to enable our operating divisions to flexibly address specific market requirements and differentiate themselves from the competition.
We are also improving our customer relationships with a range of measures. For example, since 2019 we have been using the Net Promoter System® worldwide to systematically record and optimize our problem-solving skills, product quality and delivery reliability based on direct customer feedback. We have been using a new IT-based customer relationship management system, Salesforce, since 2020. The application helps our sales employees to provide customer support and simplifies their work. Above and beyond this, we have intensified cooperation with our customers to leverage innovation and growth potential together with them. For instance, we established interdisciplinary teams in our business units to even better and more quickly address the needs of our most important customers.
BASF's strategic orientation is founded on a comprehensive analysis of our markets and competitors. We continuously monitor global trends and anticipate the resulting growth opportunities and risks. The following six strategic focus areas enable us to focus on our customers while strengthening our leading position in an increasingly volatile and competitive environment.
1 The number of customers refers to all external companies (sold-to parties) that had contracts with the BASF Group in the business year concerned under which sales were generated.
Good to know
The virtual car
The automotive industry is one of our most important customer sectors. In February 2021, we launched an interactive platform that showcases BASF's wide range of solutions and innovation expertise in mobility: Customers can explore over 500 application areas in a new virtual car – from high-performance plastics and coatings to automotive fluids, catalysts, cathode materials and more. Detailed information is provided on all products and solutions. The virtual car offers a selection of different powertrain technologies: combustion engine, plug-in hybrid, battery electric vehicle and fuel cell vehicle. E-mobility solutions can also be filtered by material properties such as battery efficiency, corrosion protection or thermal protection.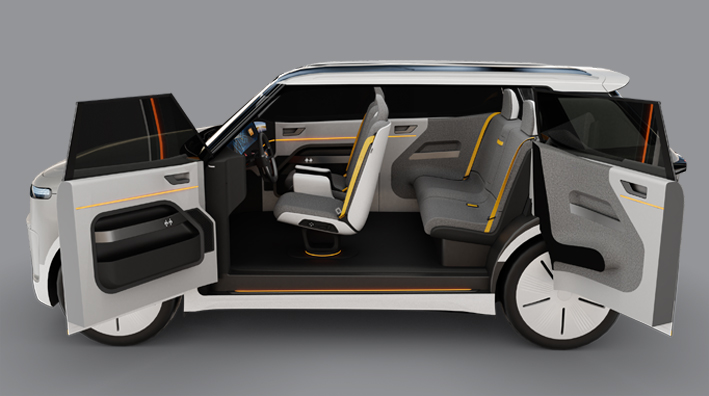 Innovation
Innovation is the bedrock of our success. BASF is a leader in the chemical industry with around 10,000 employees in research and development and R&D spending of around €2.2 billion. We are expanding this position by strengthening specific research activities, for example in battery materials, polymer technologies, catalyst processes or biotechnological methods. In addition, we are bringing research and development even closer together, incorporating our customers' requirements into our innovation processes even earlier and more intensively, and expanding cooperation with customers, universities, research institutions and other partners. To further strengthen our innovation power, we will reorganize our global research activities in 2022 and bundle them in a global research unit based in Ludwigshafen, Germany.
Our innovation pipeline is geared to sustainability – especially climate protection and the circular economy. This lays the foundation for future growth: We are working intensively on fundamental innovations for products, processes and business models, for example in the chemical recycling of plastics, battery and catalyst technologies, low-carbon production of basic chemicals, and digital, more environmentally friendly agriculture. At the same time, we are driving forward product improvements in all business units that offer our customers sustainability and competitive advantages, such as in lightweight construction and surface solutions for the automotive industry, bio-based and biodegradable active ingredients for the cosmetics, detergent and cleaner industries, and energy-efficient building materials.
Sustainability
We believe that the economy, environment and society are inextricably linked and interrelated. We want to create value in all three areas with our products, solutions and technologies. We pledged our commitment to sustainability in 1994 and since then, have systematically aligned our activities with the principles of sustainability. We want to further strengthen our position as a thought leader in sustainability. We see sustainability as an integral part of our strategy as well as our targets, steering processes and business models. This establishes us as a responsible and attractive partner supporting our customers, opens up new growth areas and secures the long-term success of our company. Our approach covers the entire value chain – from responsible procurement and safety and resource efficiency in production to sustainable solutions for our customers.
Since 1990, we have almost halved our carbon emissions while simultaneously doubling sales product volumes. By 2030, we want to reduce2 our absolute CO2 emissions by 25% compared with 2018 and will invest up to €4 billion to this end. By 2050, we aim to achieve net zero emissions from our production sites and our energy purchases. We are pursuing ambitious climate protection targets with our carbon management. This comprises five strategic levers that we are systematically driving forward to reduce our greenhouse gas emissions. To increase the share of renewables in our energy supply, for instance, we entered into pioneering cooperation agreements in 2021. For example, we hold a share in the Hollandse Kust Zuid offshore wind farm, which Vattenfall expects to commission in 2023. Together with RWE, we are developing a project concept for an offshore wind farm in the North Sea. In addition, we have signed long-term purchase agreements for renewable energy with suppliers such as Ørsted and Engie.
Another focus is our product portfolio. We already met our 2025 target of generating Accelerator sales of €22 billion in 2021. In the future, we want to align our product portfolio even more strongly with climate protection, carbon neutrality and circularity in order to meet the growing sustainability demands in our markets with innovative solutions. Consequently, we will update our product portfolio steering target in 2022.
For more information on circular economy, see:
For more information on Accelerator products und Sustainable Solution Steering, see:
Production
Our core business is the production and processing of chemicals. Our strength here lies – both now and in the future – in the Verbund and its integrated value chains. The Verbund offers us many technological, market, production-related and digital advantages. Our comprehensive product portfolio, which ranges from basic chemicals to tailored system solutions, enables us to meet the increasingly diverse needs of our customers with a differentiated offering. This is complemented by our global presence, coupled with our many decades of experience, which have allowed us to develop an in-depth understanding of the needs and landscape of local markets.
Our integrated Verbund structure enables efficient, reliable and carbon-optimized steering of our production activities. In 2021, for example, we avoided 7.3 million metric tons of CO2 worldwide through the intelligent networking of our plants and combined heat and power generation.
We plan to invest €25.6 billion worldwide between now and 2026 to expand capacities based on market demand and to further increase the availability, efficiency and flexibility of our plants. Our aim here is to be close to our customers and to grow together with them.
Digitalization
We want to leverage the diverse growth potential of digitalization and seize the associated opportunities to the benefit of our customers. To achieve this, we promote digital skills among our employees, cooperate with partners and make digital technologies and ways of working an integral part of our business. For example, we had introduced augmented reality solutions at 340 plants worldwide as of the end of 2021. We plan to implement these at more than 80 other plants by the end of 2022.
Digitalizing our plants and systematically analyzing data enables us to further automate processes and in this way, increase the capacity, availability and efficiency of our plants, for example with predictive maintenance. Linking data from different sources and using artificial intelligence for smart data analysis opens up numerous opportunities for us to manage our business more efficiently and improve our processes, for example in logistics.
The combination of products, services and digital offerings also opens up new business models and advantages for our customers, such as in agriculture or 3D printing. In addition, digitalization enables us to further strengthen our innovative power. BASF has one of the most powerful supercomputers in the chemical industry – Quriosity. It can be used to significantly accelerate complex computational processes such as the simulation of molecules, enabling new chemical products to be developed more quickly, for example. At the same time, we are already working on groundbreaking technologies such as quantum computing, including as a founding member of the Quantum Technology and Application Consortium (QUTAC) industry consortium launched in 2021.
Portfolio
The acquisitions and divestitures made in the past few years have oriented our portfolio even more strongly toward innovation-driven growth areas. In 2021, we successfully integrated the polyamide business acquired from Solvay, further strengthening our position in engineering plastics. We closed the divestiture of our pigments business to the fine chemicals company DIC as planned in the first half of 2021. The sale of our shareholding in Solenis to Platinum Equity was also completed as planned in November 2021. We intend to close the divestiture of our kaolin minerals business to KaMin, announced in November 2021, in the second half of 2022, subject to the approval of the relevant merger control authorities.
We steer our six segments along our value chains. Our operating divisions drive forward our industry and customer orientation with differentiated strategies.
The Asian market will play a key role in our future growth. With a share of more than 45%, China is already the world's largest chemical market and will be an even stronger driver of growth in global chemical production in the future. Our strong innovation, production and sales base in Asia, and in particular in China, enables us to respond to the needs of our customers in a differentiated way. To further strengthen our position in this dynamic growth market, we plan to build a second Verbund site in China, in Zhanjiang in the southern Chinese province of Guangdong. Construction on the first plants continued as planned in 2021. They are scheduled for startup in 2022. We will also expand the Verbund site we operate together with Sinopec in Nanjing, China, by 2023. This investment includes new production plants for selected products in the Petrochemicals and Intermediates divisions.
We are expanding our battery materials business with further investments and strategic partnerships and are developing innovative recycling concepts, in particular to supply the fast-growing global e-mobility market with sustainable solutions. We are currently building a precursor plant for cathode active materials3 in Harjavalta, Finland, and a production plant for cathode materials3 in Schwarzheide, Germany. Both plants are scheduled for startup in 2022. In Schwarzheide, we are also building a prototype plant for battery recycling, which is expected to start up in 2023.4 We also reached another important milestone in the development of a global value chain for battery materials with the formation of BASF Shanshan Battery Materials Co., Ltd. in China at the end of August 2021. With production facilities in all key regions and a global capacity of 160 metric kilotons of cathode materials from 2022 onward, we are able to serve cell manufacturers and OEM customers in all relevant markets with tailored and sustainable solutions. We also entered into a number of cooperative agreements in 2021, including with battery cell manufacturers such as CATL and SVOLT and automotive manufacturers such as Porsche. The aim is to jointly drive forward the development of innovative cathode materials and recycling technologies.
The transition to electromobility is leading to fundamental changes in the automotive industry. As a leading chemical supplier to the automotive industry, we will further strengthen our focus on battery materials and battery recycling. To this end, in January 2022, we started the carve-out process for our mobile emissions catalysts business, automotive catalysts recycling and the associated precious metal services unit. The new, standalone organizational structure prepares the business for the upcoming changes in the internal combustion engine market.
Employees
Our employees are key to BASF's success. That is why we believe that it is important to have an inspiring working environment that fosters and develops employees' individual talents and enables them and their teams to perform at their best. We are pursuing three action areas to make our high-performance organization even more so: empowerment, differentiation and simplification. At the same time, we encourage and promote a leadership culture that empowers our employees to respond to customer needs quickly and efficiently with a solution orientation. We value diversity in people, opinions and experience as being crucial to creativity and innovation. We embrace bold ideas, help our employees to implement them and learn from setbacks. It is founded on an open feedback and leadership culture based on mutual trust, respect and dedication to top performance.
2 In March 2021, we replaced our previous target of CO2-neutral growth until 2030 (baseline 2018: 21.9 million metric tons of CO2e) with a new, more ambitious climate protection target to reduce absolute CO2 emissions by 25% compared with 2018 (new target: 16.4 million metric tons of CO2e).
3 The investment in Finland is co-financed by Business Finland, the Finnish government organization for innovation funding and trade, travel and investment promotion.
4 Our investment and research activities in Schwarzheide and Ludwigshafen, Germany, receive funding from the German Federal Ministry for Economic Affairs and Climate Action and the Ministry for Economic Affairs, Labor and Energy of the German state of Brandenburg under the IPCEI on Batteries (funding code 16BZF101A/B).
Net Promoter System®
Registered trademark of Bain & Company, Inc.
Value chain
A value chain describes the successive steps in a production process: from raw materials through various intermediate steps, such as transportation and production, to the finished product.
Verbund
In the BASF Verbund, plants are intelligently connected. In this system, chemical processes consume less energy, produce higher product yields and conserve resources. The by-products of one plant serve as feedstock elsewhere, creating efficient value chains – from basic chemicals to high value-added solutions such as coatings or crop protection products. Our Verbund concept – realized in production, technologies, the market and digitalization – enables innovative solutions for a sustainable future.