Letter from the Chairman of the Board of Executive Directors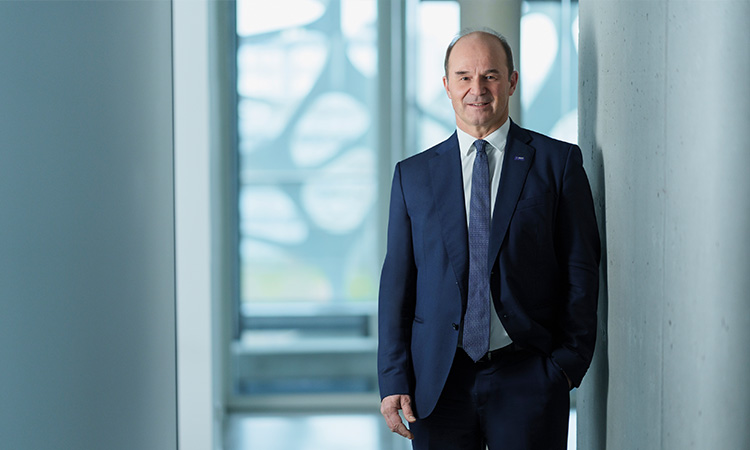 Dear Shareholder,
2021 was a very successful business year for BASF. Despite the ongoing coronavirus pandemic, widespread supply bottlenecks, and increasingly higher energy and raw materials prices, we achieved record levels of sales and earnings. We achieved an EBIT before special items of €7.8 billion. Our sales volumes were five percentage points above the 6% growth in the global chemical industry and we raised prices by 25%. This enabled us to once again earn a premium on our cost of capital in 2021. Our economic development confirms that we are on the right path with our strategic direction, our adapted organizational structure and our ongoing cost discipline.
At BASF, we have an ambitious dividend policy. Our free cash flow of €3.7 billion reflects our financial strength. Therefore, we will propose to the Annual Shareholders' Meeting a dividend of €3.40 per share, representing an increase of 10 euro cents compared with the previous year. We want to be an attractive investment and reliably create value for you, our shareholders.
The development of our share price in 2021 remained well below our expectations, despite our very good operating performance and targeted strategic development. Given that we believe that BASF is significantly undervalued on the capital market, we decided on January 4, 2022, to buy back own shares in the amount of up to €3 billion.
At BASF, we have an ambitious dividend policy.
What makes us so confident about the value of BASF? What are our priorities for the transformation to climate neutrality and the further development of our company?
As the largest chemical company in the world, we are leaders in our industry. We are ambitious. This applies especially to the transformation to climate neutrality. We want to show that this transformation and competitiveness are not mutually exclusive. Our global responsibility for sustainable development is anchored in our corporate purpose: We create chemistry for a sustainable future.
Effective climate protection and scarce resources are the central challenges of our time. We want to reduce our CO2 emissions worldwide by 25% by 2030 compared with 2018. Our 2050 target is net zero emissions. These are very ambitious goals. It is the biggest transformation in the history of the chemical industry and for BASF, considering that our production is energy intensive and that we want to continue to grow at the same time. The energy transformation will make great demands on us. But we are confident that we will succeed!
We can only reach climate neutrality if we completely transform our production by replacing energy sources based on fossil fuels with electricity from renewable resources. That will require entirely new processes and technologies and the courage to think in new directions. It will involve converting the big steam crackers from heating based on fossil fuels to electrical heating. In these plants, at the beginning of the value chains, steam is used to split naphtha into basic chemicals at about 850 degrees Celsius. Other examples include the CO2-free production of hydrogen by water electrolysis and methane pyrolysis, and using waste heat recovered with heat pumps instead of conventional steam generation in gas-fired power plants. We will invest roughly €4 billion to reach our 2030 emission reduction targets.
With our innovation power, creativity and entrepreneurial courage, we look to the future with optimism.
We are also redefining raw material cycles through recycling. Good examples of this are the chemical recycling process in which a new raw material, pyrolysis oil, is obtained from plastic waste; the recycling of mattresses, which are broken down into polyurethane precursors; and the use of bio-based raw materials. There is a great feeling of excitement in the BASF team! With our innovation power, creativity and entrepreneurial courage, we look to the future with optimism.
Electricity from renewable sources in great quantities and at favorable prices would enable us to achieve a climate-neutral future. This is made possible by the electrification of entire value chains. To achieve this, we need to massively expand renewable energies worldwide. Currently, this is not happening fast enough. That is why we are leading the way and securing access to green power. We already announced several projects in 2021 as part of the implementation of our Make & Buy strategy: We have secured a half share in a 1.5 gigawatt offshore wind park from Vattenfall in the North Sea off the coast of the Netherlands. It should be connected to the grid in 2023. It will be the world's biggest offshore wind farm – and all this without any public subsidies. We are taking a different approach with Ørsted and Engie: We have concluded attractive electricity supply contracts with both energy companies for a term of 25 years. In other regions as well, for example, in the United States and China, we are securing access to green power. In this way, we are planning proactively and laying the foundation to ensure a long-term supply of electricity from renewable resources.
CO2-free chemical production is the future. And BASF wants to be among the first there. It all starts with transparency, which is why we provide our customers with Product Carbon Footprints (PCF) – the carbon footprint associated with production per kilogram of sales product – for each of our 45,000 sales products. Furthermore, we help our customers develop strategies to reduce their carbon footprint, to use resources more efficiently, and to manufacture products in a more environmentally friendly way. We expect that demand for such emission-free or emission-reduced products will exceed supply in the medium term, and that their market value will more than compensate for the higher production costs. It therefore also makes good economic sense to take a leading role here. That is why we want to be among the first to provide as many products as possible from our portfolio with a reduced carbon footprint in large volumes by the end of the decade. This differentiates us, increases our competitiveness and enables growth above market.
CO2-free chemical production is the future. And BASF wants to be among the first there.
Profitable growth lays the foundation for a successful transformation. This is why we continue to focus our portfolio and business activities on organic growth. And the reverse is also true: The transformation is the foundation for a wide range of growth opportunities! Neither future prosperity nor climate neutrality is possible without a competitive chemical industry and innovative chemical products. Extensive regulations driven by policymakers and society do present a tremendous challenge to industry in general and particularly to the chemical industry. At the same time, however, they lead to new business opportunities. The dynamic development from the combustion engine to electromobility is a good example of this. As a leading chemical supplier to the automotive industry and producer of innovative cathode active materials for electric vehicle batteries, we are able to profit from this development. Growth and climate protection go hand in hand: Our materials not only support the dynamic growth of this market, but their low carbon footprint also paves the way for climate-neutral mobility.
China is already the largest chemical market in the world and has high growth potential in the long term. With the construction of our new Verbund site in Zhanjiang in the southern Chinese province of Guangdong, we want to further accelerate our profitable growth in the region. We are setting new standards in energy transformation there as well. By taking advantage of a new regulatory framework and signing a supply agreement for electricity from renewable sources with China Resources Power in June 2021, we will be able to operate the first plants at the new Verbund site in Zhanjiang completely with green power. Sustainable solutions and innovative products across our entire portfolio enable us to remain on our growth path and systematically drive the transformation to greater sustainability.
Climate neutrality and sustainable resource use are not possible without a competitive chemical industry.
We act swiftly and systematically in the implementation of our long-term strategy for profitable growth. I am convinced that climate neutrality and sustainable resource use are not possible without a competitive chemical industry. Our company is very well positioned. We make our contribution to society and at the same time, secure our long-term competitiveness. I am pleased that you support us on our path to a sustainable future. Many thanks for your trust.
Yours,
Martin Brudermüller
Steam cracker
A steam cracker is a plant in which steam is used to "crack" naphtha (petroleum) or natural gas. The resulting petrochemicals are the raw materials used to produce most of BASF's products.
Value chain
A value chain describes the successive steps in a production process: from raw materials through various intermediate steps, such as transportation and production, to the finished product.
Verbund
In the BASF Verbund, plants are intelligently connected. In this system, chemical processes consume less energy, produce higher product yields and conserve resources. The by-products of one plant serve as feedstock elsewhere, creating efficient value chains – from basic chemicals to high value-added solutions such as coatings or crop protection products. Our Verbund concept – realized in production, technologies, the market and digitalization – enables innovative solutions for a sustainable future.