Corporate strategy
With the "We create chemistry" strategy, BASF has set itself ambitious goals in order to strengthen its position as the world's leading chemical company. We want to contribute to a sustainable future and have embedded this into our corporate purpose: "We create chemistry for a sustainable future."
Purpose
We create chemistry for a sustainable future
Principles
As strategic basis for our success on the market
Values
As guideline for our conduct and actions
In 2050, nearly ten billion people will live on Earth. While the world's population and its demands will keep growing, the planet's resources are finite. On the one hand, population growth is associated with huge global challenges; and yet we also see many opportunities, especially for the chemical industry.
World population growth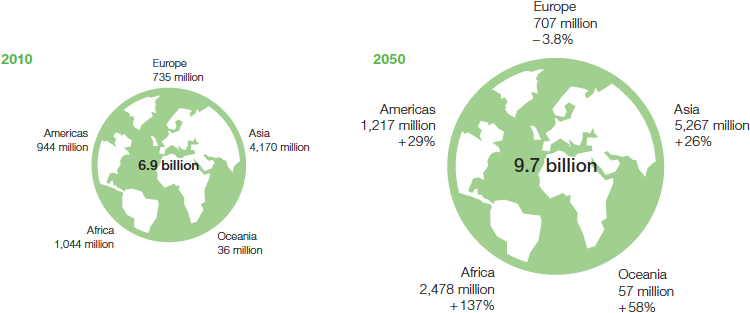 Our corporate purpose
We create chemistry for a sustainable future
We want to contribute to a world that provides a viable future with enhanced quality of life for everyone. We do so by creating chemistry for our customers and society and by making the best use of available resources.
We live our corporate purpose by:
Sourcing and producing responsibly
Acting as a fair and reliable partner
Connecting creative minds to find the best solution for market needs
For us, this is what successful business is all about.
Our leading position as an integrated global chemical company gives us the chance to make important contributions in the following three areas:
Resources, environment and climate
Food and nutrition
Quality of life
We therefore act in accordance with four strategic principles.
Our strategic principles
We add value as one company
We innovate to make our customers more successful
We drive sustainable solutions
We form the best team
We add value as one company. Our Verbund concept is unique in the industry. Encompassing the Production Verbund, Technology Verbund and Know-How Verbund as well as all relevant customer industries worldwide, this sophisticated and profitable system will continue to be expanded. This is how we combine our strengths and add value as one company.
We innovate to make our customers more successful. We want to align our business optimally with our customers' needs and contribute to their success with innovative and sustainable solutions. Through close partnerships with customers and research institutes, we link expertise in chemistry, biology, physics, materials science and engineering to jointly develop customized products, functional materials, and system solutions as well as processes and technologies.
We drive sustainable solutions. In the future, sustainability will more than ever serve as a starting point for new business opportunities. That is why sustainability and innovation are becoming significant drivers for our profitable growth.
We form the best team. Committed and qualified employees around the world are the key to making our contribution to a sustainable future. Because we want to form the best team, we offer excellent working conditions and inclusive leadership based on mutual trust, respect and dedication to top performance.
Our values
Creative
Open
Responsible
Entrepreneurial
Our conduct is critical for the successful implementation of our strategy: This is what our values represent. They guide how we interact with society, our partners and with each other.
Creative: In order to find innovative and sustainable solutions, we have the courage to pursue bold ideas. We link our areas of expertise from many different fields and build partnerships to develop creative, value-adding solutions. We constantly improve our products, services and solutions.
Open: We value diversity – in people, opinions and experiences. That is why we foster dialog based on honesty, respect and mutual trust. We develop our talents and capabilities.
Responsible: We act responsibly as an integral part of society. In doing so, we strictly adhere to our compliance standards. And in everything we do, we never compromise on safety.
Entrepreneurial: All employees contribute to BASF's success – as individuals and as a team. We turn market needs into customer solutions. We succeed in this because we take ownership and embrace accountability for our work.