Segment profile
The Performance Products segment consists of the Dispersions & Pigments, Care Chemicals, Nutrition & Health and Performance Chemicals divisions. Our solutions enhance the performance of industrial and consumer products worldwide. With our tailor-made products, our customers can make their production processes more efficient and give their products improved application properties.
Divisions
---
Dispersions & Pigments
Raw materials for the formulation of varnishes, coatings, printing and packaging inks, adhesives and construction materials
Care Chemicals
Ingredients for hygiene, personal care, home care and industrial & institutional cleaning businesses as well as for applications in the chemical industry
Nutrition & Health
Products for the food and feed industries, the flavor and fragrance industry and the pharmaceutical industry
Performance Chemicals
Customized products for many sectors, from mining and the fuel industry to plastics processing
Sales
---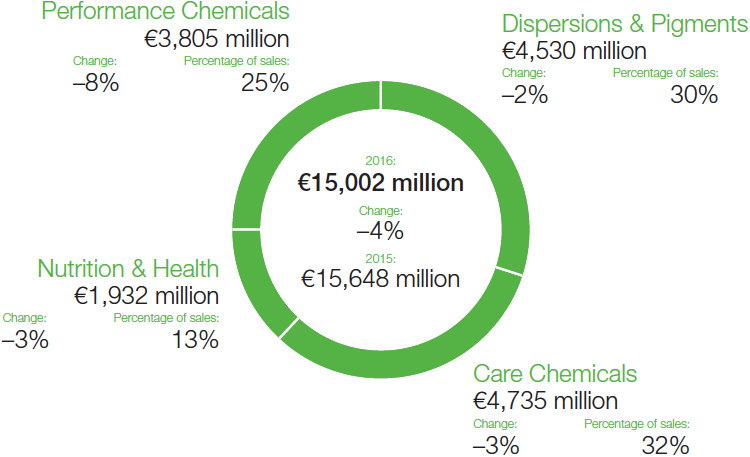 How we create value – an example
Ingredients from RSPO-certified palm kernel oil
Attracting customers as a reliable supplier and supporting more sustainable cultivation
Value for BASF

to 158,000 metric tons
In 2016, purchase of certified palm kernel oil increased
Value for our customers and the environment
19
Number of RSPO-certified production sites worldwide
The sustainable cultivation of renewable raw materials is gaining in importance. Our customers in the cosmetic and detergents and cleaners industries are therefore increasingly making use of ingredients containing palm kernel oil that has been certified according to the criteria of the Round Table on Sustainable Palm Oil (RSPO). The availability of certified palm kernel oil is limited. And yet we were able to expand our purchasing volumes by around 32,000 to 158,000 metric tons in 2016, nearly doubling sales of certified products based on palm kernel oil. This allows us to meet increasing demand and participate in actively shaping the evolving market.
With a total of 19 RSPO-certified production sites on four continents, we offer our customers a secure supply worldwide, helping them fulfill the obligations they took on for sustainable palm-based products. Our annual use of palm kernel oil and its derivatives requires an average of 785,000 hectares of cultivated acreage. As one of the largest global processors of palm kernel oil, we will continue our commitment to continuously improving sustainability along the entire value chain.
Strategy
Tailor-made products and solutions improve our customers' applications and processes
Global presence ensures reliable supply to customers in all regions
Pigments activities transferred to independent legal entities; new Electronic Materials business unit
We take on the challenges posed by important future issues, especially population growth: scarce resources, environmental and climatic stressors, greater demand for food and the desire for better quality of life. In doing so, we focus on research and development and maintain close relationships to leading companies in our key customer industries. We position ourselves globally in order to reliably supply customers in all regions. We invest in the development of innovations that enable our products and processes – as well as our customers' applications and processes – to make a contribution to sustainability: for example, by allowing resources to be used more efficiently.
Industry-specific specialties make up a major part of our product range. These products create additional value for our customers, which allows them to stand out from the competition. We develop new solutions together with our customers and strive for long-term partnerships which create profitable growth opportunities for both sides.
We pursue a different business model for standard products, such as vitamins or dispersions for paper coatings. Here, efficient production setups, backward integration in our Production Verbund's value chains, capacity management, and technology and cost leadership are all essential.
We support our customers by serving as a reliable supplier with consistently high product quality, good value for money and lean processes.
In July 2016, we transferred the global pigments activities to independent legal entities. The largest is BASF Colors & Effects GmbH, headquartered in Ludwigshafen, Germany. This reorganization allows for better adaptation to the challenges facing the pigment industry.
As of January 1, 2017, all resources of the BASF Group for the electronics industry, including the activities of the Monomers division for the semiconductor and display sectors, were combined into a new global business unit, Electronic Materials, allocated to the Dispersions & Pigments division. This will strengthen our position as a strategic partner to the major electronics manufacturers.
We began planning construction of a new vitamin A complex in Ludwigshafen, scheduled to start up in 2020.