Letter from the Chairman of the Board of Executive Directors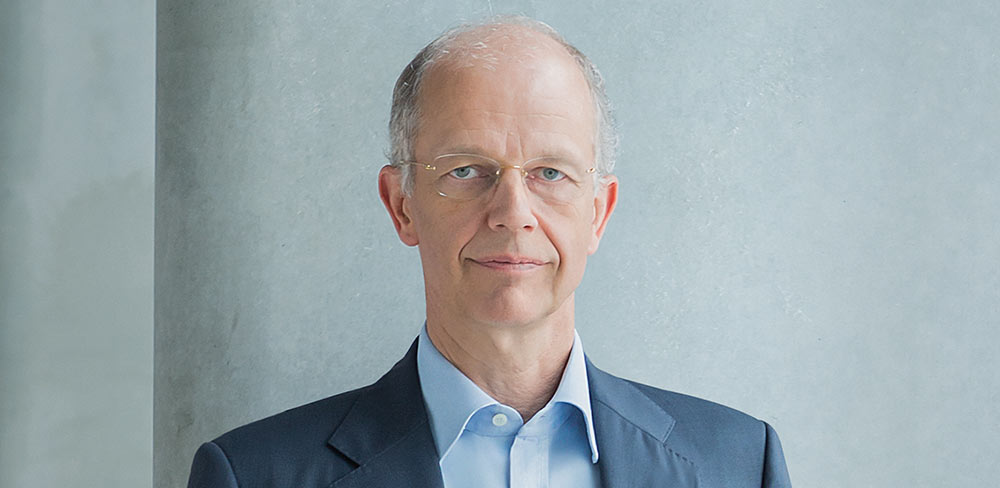 Dear Shareholder,
In 2016, we achieved the goals we set for ourselves for growth and earnings. We successfully grew in the chemicals business and further improved profitability. It was foreseeable that earnings in Oil & Gas would not match the previous year's level. The oil price declined further – around 15%, to an average of $44 per barrel for Brent crude in 2016. Furthermore, we had divested our gas trading and storage business in the third quarter of 2015. As a result, BASF Group's EBIT before special items of €6.3 billion was slightly lower overall, down by 6% versus the previous year. As expected, sales declined considerably, by 18% to €57.6 billion.
2016 also painfully demonstrated to us that, despite all our caution and protective measures, risks in the chemical industry cannot be ruled out. In October an accident occurred during maintenance work on a pipeline at the Ludwigshafen site. An explosion resulted in the deaths of four people. Our sympathy is with their families and friends. We are doing everything we can to fully investigate the accident and we will continue to be open and transparent in reporting the findings. If there are ways of further improving our safety, we will pursue them.
The BASF team worked hard to quickly implement solutions to the initial major disturbances to the logistics supplying the site. As a result, the economic consequences are considerably smaller than had been expected in the immediate aftermath of the accident. This was an impressive demonstration of the strength of the BASF team. And for this as well, I would like to extend a heartfelt thanks to all employees on behalf of the Board of Executive Directors, especially since 2016 was also a challenging business year.
2016 got off to a weak start with the oil price at times dipping below $30 per barrel for Brent crude. Our customers were feeling uncertain and were hesitant to place orders. In the first quarter we did not achieve any volume growth. Throughout the rest of the year the impact of our strict spending and cost-discipline measures continually increased. Our excellence program DrivE also delivered the anticipated contributions. Both of these factors played a role in the positive earnings momentum.
As the year progressed, we were able to increase BASF's growth. Our sales volumes rose from quarter to quarter. Particularly in Asia, we continuously increased our sales volumes in the chemicals business and grew strongly. This shows that the high investments we made in research and development and new production capacity in recent years are paying off. The Performance Products and Functional Materials & Solutions segments, where we provide our customers with tailor-made solutions for their applications, contributed in particular to this. In both of these segments we significantly improved our profitability, even more than we had expected one year ago. In the Chemicals segment, our earnings nearly matched the previous year's level and were thus slightly better than expected. Despite considerable price erosion for many products as a result of lower raw material prices, we were able to keep margins stable in many cases.
Our crop protection business performed moderately well in a difficult market environment. Volumes were below the prior-year level, but we managed to keep EBIT before special items stable thanks to strict cost management – we consider this a solid result compared with other industry players.
In the Oil & Gas business we made dramatic adjustments to our costs and expenditures in response to the changing market conditions. As expected, sales and earnings in the segment were significantly below the previous year's level. An important development was our increased production of oil and gas in 2016. Following the sale of our gas trading business we are concentrating on the exploration and production of oil and gas.
"The chemicals business and our crop protection business successfully contributed to considerable improvement in EBIT after cost of capital."
We want to create value for our shareholders. The benchmark for this is positive EBIT after cost of capital. The considerable improvement in 2016 is especially satisfying because the chemicals business and our crop protection business successfully contributed to this. We were thus able to more than offset the price-related negative contribution from our Oil & Gas business.
As a shareholder, you deserve to appropriately share in this success. We are continuing our dividend policy and propose to raise the dividend again, by €0.10 to €3.00. BASF shares thus once again offer a high dividend yield of 3.4% based on the closing share price at the end of 2016.
The BASF share price trend in 2016 reflected the earnings momentum as well as future expectations. In a volatile market environment our share price developed positively. It closed out the year at €88.31, around 25% higher than at the end of the previous year. The performance of our shares was also impressive: With dividends reinvested, the value of our shares rose by 30%, thus considerably outperforming the DAX 30 (7%), Dow Jones Euro Stoxx 50 (4%) and MSCI World Chemicals (11%) Indexes.
Five years ago, we introduced our "We create chemistry" strategy. It focused on growth from investments, innovation and the further development of our portfolio.
In recent years, we have increased our investments in new plants worldwide. We have thus created the conditions to enable organic growth. After a phase of high investments, especially in emerging markets, we scaled these back in 2016 as previously announced. In the coming years we plan to invest at a comparable level. We are now filling the existing capacity in our plants and we want to build on the volume growth momentum seen last year.
Innovation and sustainability – which are closely related – are key pillars of our strategy. In order to offer customized solutions to our customers in the various regions and markets, we have continuously expanded our global research and development activities. In 2016 we further developed our approach to innovation. Our researchers are working on using digital technologies even more. We are integrating digital technologies in our research processes and using data to explore new questions. We also want to make greater use of scientific models to predict the properties of chemical structures. These measures help us strengthen our long-term competitiveness and take advantage of new growth opportunities.
"We have bundled, focused and accelerated our digitalization activities under the name BASF 4.0."
Digitalization will change BASF in other areas, too. We have bundled, focused and accelerated our digitalization activities under the name BASF 4.0. The digital transformation will influence the way we manage our factories in the future, how we work seamlessly with our suppliers and customers, and how we tap and develop new business opportunities and markets. This report contains examples of how we are doing this. We see digitalization as an opportunity for BASF and for our employees – and we will actively shape it.
We also want to continue to grow profitably with acquisitions. In 2016 we purchased Chemetall, a leading global supplier of surface treatments. Chemetall's products can, for example, protect metals from corrosion or facilitate their machining. They are used in industries such as automotive and aerospace. This business is very close to customers and perfectly complements our coatings activities. At the same time, we have divested activities that were no longer an optimal fit for our portfolio, such as the industrial coatings and polyolefin catalysts businesses, which we successfully sold.
The process of structural change in the chemical industry continues, following what appear to be the prevailing trends. BASF adheres to simple principles: Every business should achieve a leading market position if possible and be successful on its own – especially in comparison with its direct competitors. And each business benefits from BASF and from our Verbund – not only in production and logistics but also in research and development and with customers. The Verbund is and will remain the core of BASF. It demands and fosters excellence.
"In 2017, we want to grow further and all segments should contribute to this."
In 2017, we want to grow further and all segments should contribute to this. More importantly, our earnings should rise again, also in the Oil & Gas business, where we assume an average oil price of $55 per barrel of Brent crude in 2017. Business so far this year is in line with our expectations. These expectations are also based on the assumptions that economic conditions will be similar to 2016 and chemical production worldwide will rise by around 3.4%.
However, political uncertainties in particular have rarely been this high. The impact of Brexit remains unpredictable; it affects our competitiveness as well as that of our customers in our home market of Europe, where, moreover, important elections are taking place. Protectionism may seem sweet at first, but it is poison. Around the world, we are seeing a trend towards trying to create prosperity through isolation rather than cooperation. This is another reason why our strategy of producing as much as possible in the local markets is still the right approach.
"In the growth markets in particular we have systematically invested in production, research and development and sales and marketing."
In the long term, Asia will continue to be the growth driver in the global chemicals market. And China is by far the largest market. In the growth markets in particular we have systematically invested in production, research and development and sales and marketing. We can therefore offer our local customers tailor-made solutions and successfully participate in this growth.
We are cautiously optimistic for 2017. In light of the major uncertainties, we will continue our strict discipline with respect to expenditures and costs. An ongoing task is the further development of our portfolio. We will continue to drive forward the digital transformation in our research and development, in production and in the development of new business models that connect us even more closely with our customers. I can assure you that the BASF team is full of energy and drive – and we will prove it once again in 2017.
Yours,
Kurt Bock