Statement of Cash Flows
Cash provided by operating activities significantly, and free cash flow slightly, down year-on-year
At €7,717 million, cash provided by operating activities in 2016 was €1,729 million below the level of the previous year. Contributing to this was the lower year-on-year level of cash inflow from changes in net working capital, which contains changes in inventories and receivables as well as in operating liabilities and other provisions. This resulted primarily from the targeted reduction of inventories in 2015. Miscellaneous items especially included the transfer of disposal gains into cash used in investing activities. In 2015, this item had primarily included the reclassification of gains from the asset swap with Gazprom.
Cash used in investing activities amounted to €6,490 million in 2016 compared with €5,235 million in 2015. Payments made for property, plant and equipment and intangible assets were at €4,145 million, below both the prior year's level (€5,812 million) and the level of amortization and depreciation of intangible assets and property, plant and equipment and financial assets (€4,291 million).
Acquisitions and divestitures in 2016 resulted in net payments made of €2,164 million compared with €436 million in net payments received in 2015. The acquisition of Chemetall was primarily responsible.
Cash outflow of €181 million from financial assets and other items in 2016 was mainly attributable to the acquisition of marketable securities. In 2015, the decline in loan receivables in particular had led to €141 million in payments received.
Cash used in financing activities amounted to €2,160 million in 2016, compared with €3,673 million in the previous year. Contributions from minority interests to capital increases in Group companies led to a cash inflow of €28 million in 2016. Changes in financial liabilities resulted in cash inflow of €579 million. This was largely the result of issuing new bonds as well as of tapping an existing bond; the scheduled repayment of three bonds and scaling back BASF SE's U.S. dollar commercial paper program both had a counterbalancing effect. In 2016, dividends of €2,664 million were paid to shareholders of BASF SE and €103 million to minority interests.
Cash and cash equivalents fell by €933 million, amounting to €1,375 million as of December 31, 2016.
Free cash flow, which is what remains after subtracting payments made for property, plant and equipment and intangible assets from cash provided by operating activities, fell to €3,572 million compared with €3,634 million in 2015. The decline in cash provided by operating activities was nearly offset by lower payments made for property, plant and equipment and intangible assets.
Cash flow (billion €)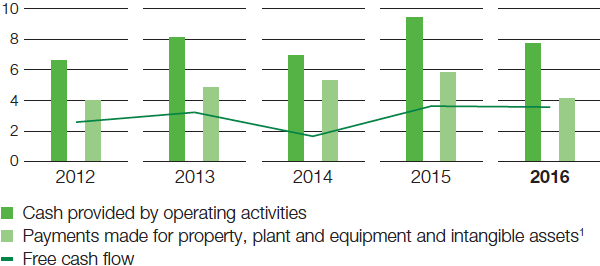 1 Including investments to the extent that they already had an effect on cash.
Statement of cash flows (million €)

2016

2015

Net income

4,056

3,987

Depreciation and amortization of intangible assets, property, plant and equipment, and financial assets

4,291

4,448

Changes in net working capital

104

1,347

Miscellaneous items

(734)

(336)

Cash provided by operating activities

7,717

9,446

Payments made for property, plant and equipment and intangible assets

(4,145)

(5,812)

Acquisitions/divestitures

(2,164)

436

Financial assets and other items

(181)

141

Cash used in investing activities

(6,490)

(5,235)

Capital increases/repayments and other equity transactions

28

66

Changes in financial liabilities

579

(933)

Dividends

(2,767)

(2,806)

Cash used in financing activities

(2,160)

(3,673)

Net changes in cash and cash equivalents

(933)

538

Cash and cash equivalents at the beginning of the year and other changes

2,308

1,703

Cash and cash equivalents at the end of the year

1,375

2,241