The BASF Group
At BASF, we create chemistry for a sustainable future. As the world's leading chemical company, we combine economic success with environmental protection and social responsibility. The approximately 114,000 employees in the BASF Group work on contributing to the success of our customers in nearly all sectors and almost every country in the world. Our portfolio is arranged into five segments: Chemicals, Performance Products, Functional Materials & Solutions, Agricultural Solutions and Oil & Gas.
Global leader
BASF is the world's leading chemical company
In 80+ countries
Employees contribute to our success
Broad portfolio
5 segments
13 operating divisions
86 strategic business units
Organization of the BASF Group
Thirteen divisions grouped into five segments
Regional divisions, corporate units and research and functional units support our business
Thirteen divisions divided into five segments bear operational responsibility and manage our 57 global and regional business units. The divisions develop strategies for our 86 strategic business units and are organized according to sectors or products.
BASF structure
Percentage of total sales in 2016

Our regional units are responsible for optimizing local infrastructure, and contribute to tapping our market potential. For financial reporting purposes, we organize our regional divisions into four regions: Europe; North America; Asia Pacific; and South America, Africa, Middle East.
Until the end of 2016, three central divisions, six corporate units and ten competence centers supported the BASF Group's business activities in areas such as finance, engineering, investor relations, communications and research. At the beginning of 2017, we reassembled these into five research units, eight functional units and seven corporate units. We realigned the organizational structures in selected functional units. These include Procurement, Human Resources and Supply Chain Operations & Information Services, along with Environmental Protection, Health & Safety and European Site & Verbund Management. With this organization, we are aligning ourselves more closely to customer and market needs and reducing internal interfaces.
BASF sites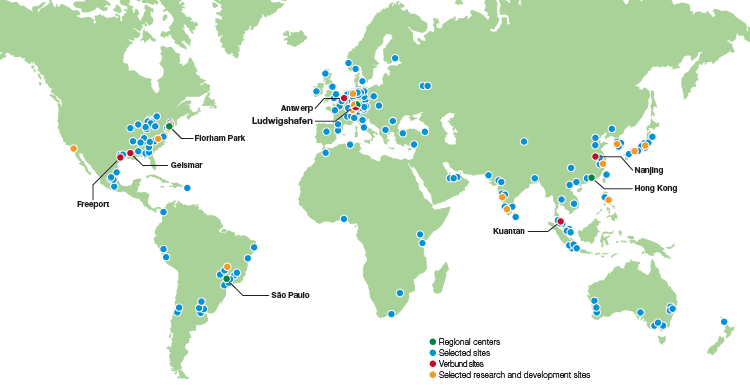 Markets and sites
BASF companies in more than 80 countries
Six Verbund sites and 352 additional production sites worldwide
BASF has companies in more than 80 countries and supplies products to numerous customers in nearly every part of the world. In 2016, we generated 43% of our sales (excluding Oil & Gas) with customers in Europe. In addition, 26% of sales were generated in North America; 22% in Asia Pacific; and 9% in South America, Africa, Middle East. Viewed over the entire BASF Group, 45% of our sales were to customers in Europe, 25% in North America, 21% in Asia Pacific and 9% in South America, Africa, Middle East.
We operate six Verbund sites and 352 additional production sites worldwide. Our Verbund site in Ludwigshafen is the world's largest integrated chemical complex. This was where the Verbund principle was originally developed and steadily honed before being implemented at additional sites.
Verbund
Intelligent plant networking in the Production Verbund
Technology and Know-How Verbund
The Verbund system is one of BASF's great strengths. Here, we add value as one company by using our resources efficiently. The Production Verbund intelligently links production units and energy demand so that, for example, the waste heat of one plant provides energy to others. Furthermore, one facility's by-products can serve as feedstock elsewhere. This not only saves us raw materials and energy, it also avoids emissions, lowers logistics costs and makes use of synergies.
We also make use of the Verbund principle for more than production, applying it for technologies, knowledge, employees, customers, and partners, as well. Expert knowledge is pooled into our global research platforms.

Competitive environment
BASF holds one of the top three market positions in around 70% of the business areas in which it is active. Our most important global competitors include AkzoNobel, Clariant, Covestro, Dow Chemical, DSM, DuPont, Evonik, Formosa Plastics, Reliance, SABIC, Sinopec, Solvay and many hundreds of local and regional competitors. We expect competitors from emerging markets to gain increasing significance in the years ahead.
Corporate legal structure
As the publicly traded parent company, BASF SE takes a central position: Directly or indirectly, it holds the shares in the companies belonging to the BASF Group, and is also the largest operating company. The majority of Group companies cover a broad spectrum of our business. In some, we concentrate on specific business areas: The Wintershall Group, for example, focuses on oil and gas activities. In the BASF Group Consolidated Financial Statements, 286 companies including BASF SE are fully consolidated. We consolidate eight joint operations on a proportional basis, and account for 34 companies using the equity method.
Compensation Report and disclosures in accordance with Section 315(4) of the German Commercial Code (HGB)
The Compensation Report and the disclosures required by takeover law in accordance with Section 315(4) of the German Commercial Code (HGB) can be found under Corporate Governance. They form part of the Management's Report audited by the external auditor.
Declaration of Corporate Governance in accordance with Section 315(5) HGB in connection with Section 289a HGB
The Declaration of Corporate Governance can be found in the Corporate Governance chapter onward and is a component of the Management's Report. It comprises:
Pursuant to Section 317(2)(4) HGB, information disclosed in accordance with Section 315(5) HGB is not included in the audit conducted by the report auditor.