Inclusion of diversity
Promoting diversity as part of company culture
Global goals for increasing percentage of women in leadership positions
We want to utilize diversity for the development of our business. Promoting diversity is one of the mainstays of our corporate culture. The strong global character of our markets translates into different customer requirements. We want to reflect this diversity in our workforce, as well, in order to even better understand the needs of our customers. The aim is to increase our teams' performance and power of innovation, and boost creativity, motivation and identification with the company. We are further promoting the appreciation and inclusion of diversity. Leaders play an important role here. We support them in strengthening diversity and making the best possible use of it in day-to-day business. For example, specific goals and measures are being developed for such topics as recognizing and developing different kinds of talent.
Since 2015, BASF has set itself global quantitative goals for increasing the percentage of women in leadership positions. In the BASF Group, the global proportion of female leaders with disciplinary responsibility was 19.8% at the end of 2016 (2015: 19.5%). We aim to increase this figure to 22–24% worldwide by 2021, so that the proportion of women in leadership reflects that of women in the global company workforce.
2021 Goal
22–24%
Proportion of women in leadership positions with disciplinary responsibility
Considering the relatively low rate of turnover in the BASF Group's leadership team, this is an ambitious goal. Furthermore, BASF wants to continue increasing the global percentage of senior executives1 that come from countries other than Germany. This figure was at 36.4% by the end of 2016 (2015: 35.6%).
Moreover, we intend to maintain the proportion of senior executives with international experience at over 80%. We exceeded this figure by the end of 2016, reaching 84.6%. With these goals, we continue to drive our globally integrated approach to promoting diversity and leadership development.
1 The term "senior executives" refers to leadership levels 1 to 4, whereby level 1 denotes the Board of Executive Directors. In addition, individual employees can attain senior executive status by virtue of special expertise.
Balancing personal and professional life
Worldwide offers and opportunities
Our identity as an employer includes our belief in supporting our employees worldwide in balancing their professional and personal lives. Through various offers and opportunities, we create working conditions that give fair consideration to our employees' individual needs. We want to strengthen their identification with the company and bolster our position as an attractive employer in the competition for qualified personnel. Our offer includes flexible working hours, part-time employment and mobile working. In 2016, a total of 12.0% of BASF SE employees held part-time positions, of which 69.9% were women. Numerous employees also made use of parental leave.
Balancing personal and professional life
(Total BASF SE employees: 35,001, thereof 21.4% women, as of December 31, 2016)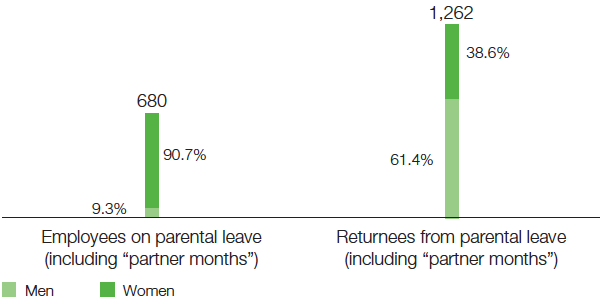 Our regional initiatives specifically address the needs of our employees at a local level. Our Work-Life Management employee center in Ludwigshafen ("LuMit"), provides opportunities for fitness and health, employee assistance, and balancing career and personal life – like the company childcare center, "LuKids," which offers daycare for 250 children. Around 600 employees take advantage of LuMit every day. We also provide social counseling at other sites in Germany, such as those in Münster and Schwarzheide, as well as in Asia, South Africa and North America, to help employees overcome difficult life situations and maintain their employability.