Working at BASF
Our employees carry out the goals of the "We create chemistry" strategy. We want to attract and retain talented people for our company and support them in their development. To do so, we cultivate a working environment that inspires and connects people. It is founded on inclusive leadership based on mutual trust, respect and dedication to top performance.
113,830
Employees around the world
Life-long learning
On center stage
3,120
Apprentices1 in around 60 occupations
1 At BASF, the apprenticeship program trains students for technical, scientific and business vocations as well as for trade and craft professions.
Strategy
Best Team Strategy focuses on excellent people, workplace and leaders
The Best Team Strategy is derived from our corporate strategy and contributes greatly to the achievement of our goals. We want to form the best team. To achieve this, we focus on three strategic directions: excellent people, excellent place to work and excellent leaders. Emphasis here is placed on our attractiveness in worldwide labor markets, personal and professional development, life-long learning, and supporting and developing our leaders. We are strongly committed to internationally recognized labor and social standards and strive to respect these worldwide.
BASF Group employees by region
(Total: 113,830, thereof 24.6 % women, as of December 31, 2016)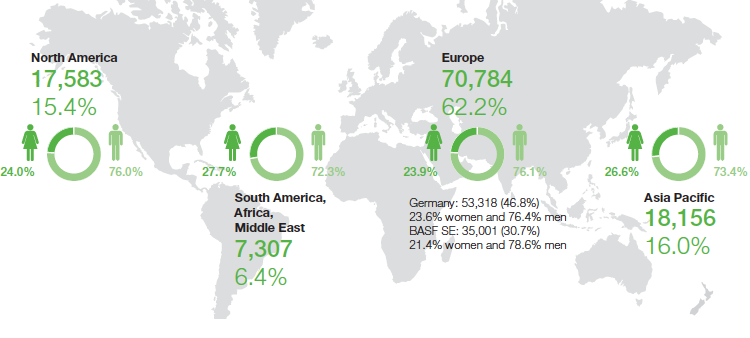 Number of employees
At the end of 2016, BASF had 113,830 employees (2015: 112,435); of these, 3,120 were apprentices (2015: 3,240). We hired 6,957 new employees Group-wide in 2016. Moreover, the acquisition of Chemetall especially added to our workforce. Reductions in headcount were related to events such as the sale of the industrial coatings and polyolefin catalysts businesses.
The average percentage of employees who resigned during their first three years of employment was 1.2% worldwide in 2016. This turnover rate was 0.5% in Europe, 1.5% in North America, 3.2% in Asia Pacific and 1.9% in South America, Africa, Middle East. Our turnover rates are therefore lower than those of many other companies.
BASF Group new hires in 2016

December 31,
2016

Thereof
women %

Europe

3,111

30.8

North America

1,584

31.3

Asia Pacific

1,733

32.1

South America, Africa, Middle East

529

38.9

Total

6,957

31.9