Segment profile
The Functional Materials & Solutions segment comprises the Catalysts, Construction Chemicals, Coatings and Performance Materials divisions. They develop and market system solutions, services and innovative products for specific sectors and customers, particularly for the automotive, electronics, chemical and construction industries as well as for household applications, sports and leisure.
Divisions
---
Catalysts
Automotive and process catalysts, battery materials, precious metal trading
Construction Chemicals
Solutions for building structure and envelopes, interior construction and infrastructure
Coatings
Coatings solutions, surface treatments, decorative paints
Performance Materials
Polyurethanes, thermo-plastics and foams
Sales
---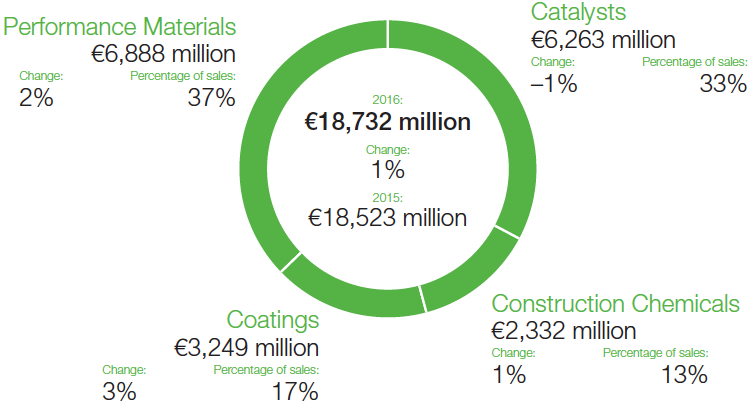 How we create value – an example
Ultraviolet (UV) primer filler
New automotive refinish product for shorter processing time in the workshop
Value for BASF
19%
Expected average sales growth per year through 2021
Value for our customers
up to 65%
Time saved in painting
Repairing paint damage requires a series of time-consuming steps: For example, primer and filler need to be applied separately, and each needs time for drying and cooling. Our product eliminates one step for steel surfaces, as it serves as both primer and filler. It can also be cured with UVA light, which, unlike conventional methods, generates no heat and thus requires no cooling time. After the successful launch in 2016, we expect annual sales of this UV primer filler to grow by more than 19% on average from 2017 to 2021.
The new UV primer filler allows our customers to save up to 65% of their time in repairing paint damage, depending on the surface material and paint shop equipment. Especially smaller and medium-sized repairs can be conducted more economically. The use of UVA light is also considerably more energy-efficient than other curing methods and prevents plastic parts, like bumpers, from warping. We market the UV primer filler under our brand names Glasurit® and R-M®.
Strategy
Development of innovative products and technologies in close collaboration with our customers
Focus on specialties and system solutions that allow our customers to stand out from the competition
We use BASF's expertise as the world's leading chemical company to develop innovative products and technologies in close cooperation with our customers. Our aim is to find the best solution in terms of cost and functionality, helping our customers contribute to sustainable development. Our specialties and system solutions enable customers to stand out from the competition.

One focus of our strategy is the ongoing optimization of our product portfolio and structures according to different regional market requirements as well as trends in our customer industries. We are positioning ourselves to grow profitably and faster than the market.
We aim to secure our leading market position in Europe, to profitably expand our position in the North American market and to selectively extend our activities in the growth regions of Asia, South America, Eastern Europe and the Middle East.
At the end of 2016, we acquired surface technology provider Chemetall from Abermarle Corp., Charlotte, North Carolina, thereby enhancing our coatings portfolio and supporting our aim to grow profitably in innovative and solution-focused businesses closer to end users.